Diving in Cozumel is right up there as one of the world's great scuba experiences and it's been on our bucket list for about as long as we've been certified divers. In this post, we finally get beneath the waves of the turquoise Caribbean Sea, just off Mexico's Yucatán Peninsula.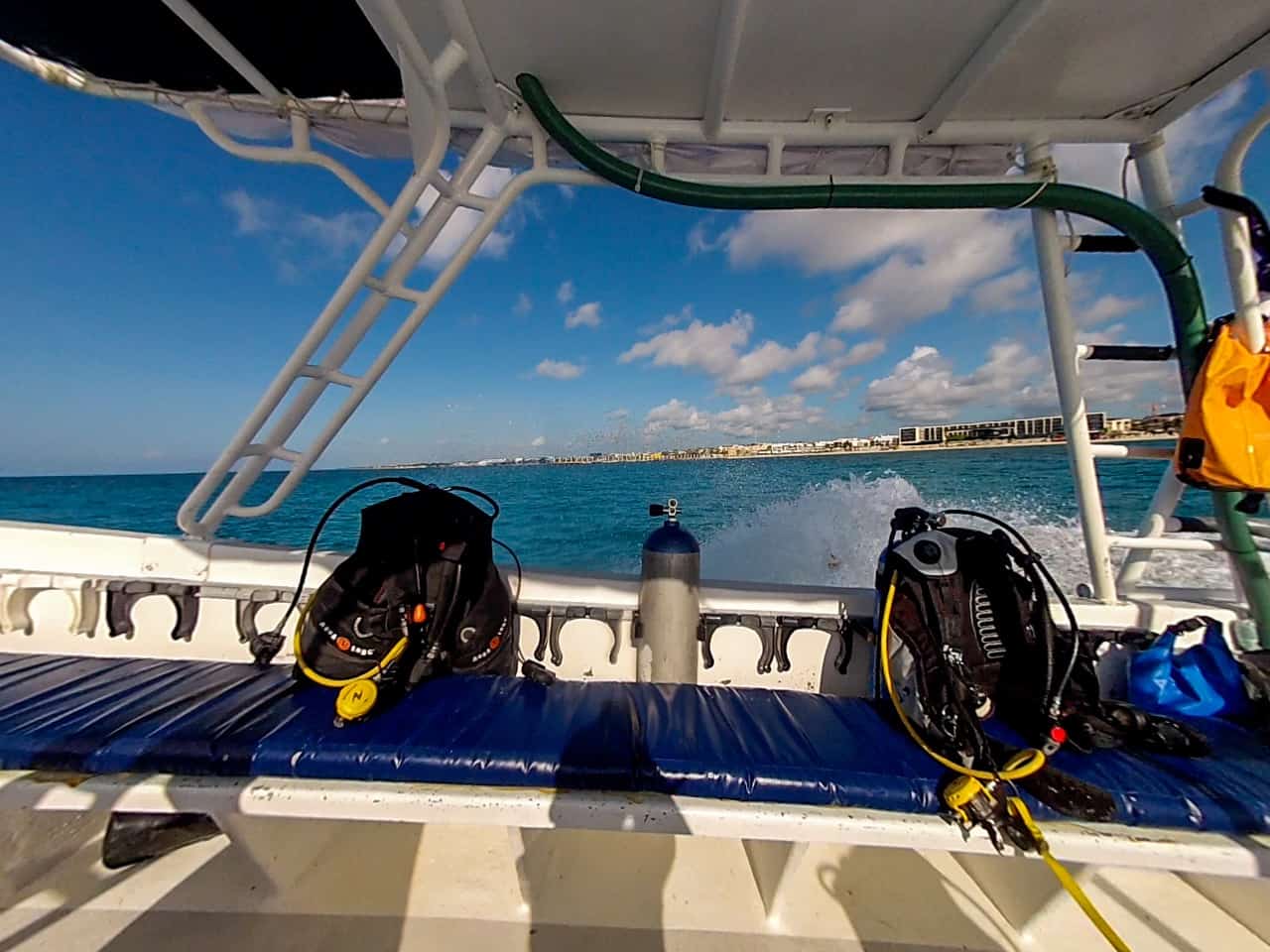 With six months of solid travel behind us, we arrived in Mexico on a scorching summer's day with just three aims: to unwind in one of our favourite countries, to eat lots of tacos, and to kick a few aquatic goals on our bucket list.
The first two were easy. We landed a great little apartment a couple of blocks back from the main drag in Playa Del Carmen, and quickly found our go-to taqueria, a smoky, buzzing space with addictive tacos al pastor for a dollar and fishbowl-sized margaritas. Happy travellers.
Our third aim required a little more research, which pointed us in the direction of Blue Life Diving in Playa del Carmen. One visit and a chat with the crew later, and we were on board.
Our first dives were mind-blowing subterranean journeys through two of the Yucatán's flooded inland cavern systems. Blue Life absolutely lived up to their billing during these incredible cenote dives, and we couldn't wait to get back in the water with them for some diving in Cozumel.
With the waters off the Yucatán a magnet for divers, we were expecting a packed boat when we geared up and walked down to the beach near the dive shop. We were stoked to discover that we were the only divers booked on the dive boat floating in the shallows.
Lucking out with a private ride for the 30-minute trip from the beach at Playa del Carmen to Cozumel was a bonus. We appreciated it even more once we arrived at our first dive site – Santa Rosa Reef – and had all that extra space to gear up, a luxury rarely experienced on boat dives.
Santa Rosa Reef proved fairly quiet on the fish front, but made up for it with a long, deep coral wall and spectacular underwater topography.
Our dive guide Hugo had briefed us to expect a reasonable drift at Santa Rosa, but on the day we dropped in, we had just enough current to carry us along; it was fun without being too challenging.
Drifting along the wall in crystal clear water, we explored the abundant coral for hidden critters while admiring huge rocky outcrops and dramatic geology.
For us though, Santa Rosa's major drawcards were the swim-throughs that puncture the wall and the rocks above.
These ranged from short, easy passages, to narrower, more challenging formations, with the occasional twist and turn.
Beyond the last swim-through, we came to a large sandy area surrounded by beautiful coral outcrops, an ideal spot for a safety stop before ascending to the surface.
Back on the boat, we refueled during our surface internal with water, sugary drinks and blueberry muffins while our captain navigated to our second dive site, aptly named Paraiso, or Paradise Reef.
The perfect companion to our first dive, Paraiso was an easy, relatively shallow dive along three spectacular reefs literally teeming with sea life.
It turned out to be one of our favourite dives this year, with beautiful hard and soft corals interspersed with sandy stretches ideal for exploring. The pool-like visibility and sheer diversity of sea life at Paraiso was breath-taking.
We eyeballed large spotted moray eels gaping out of rocky holes.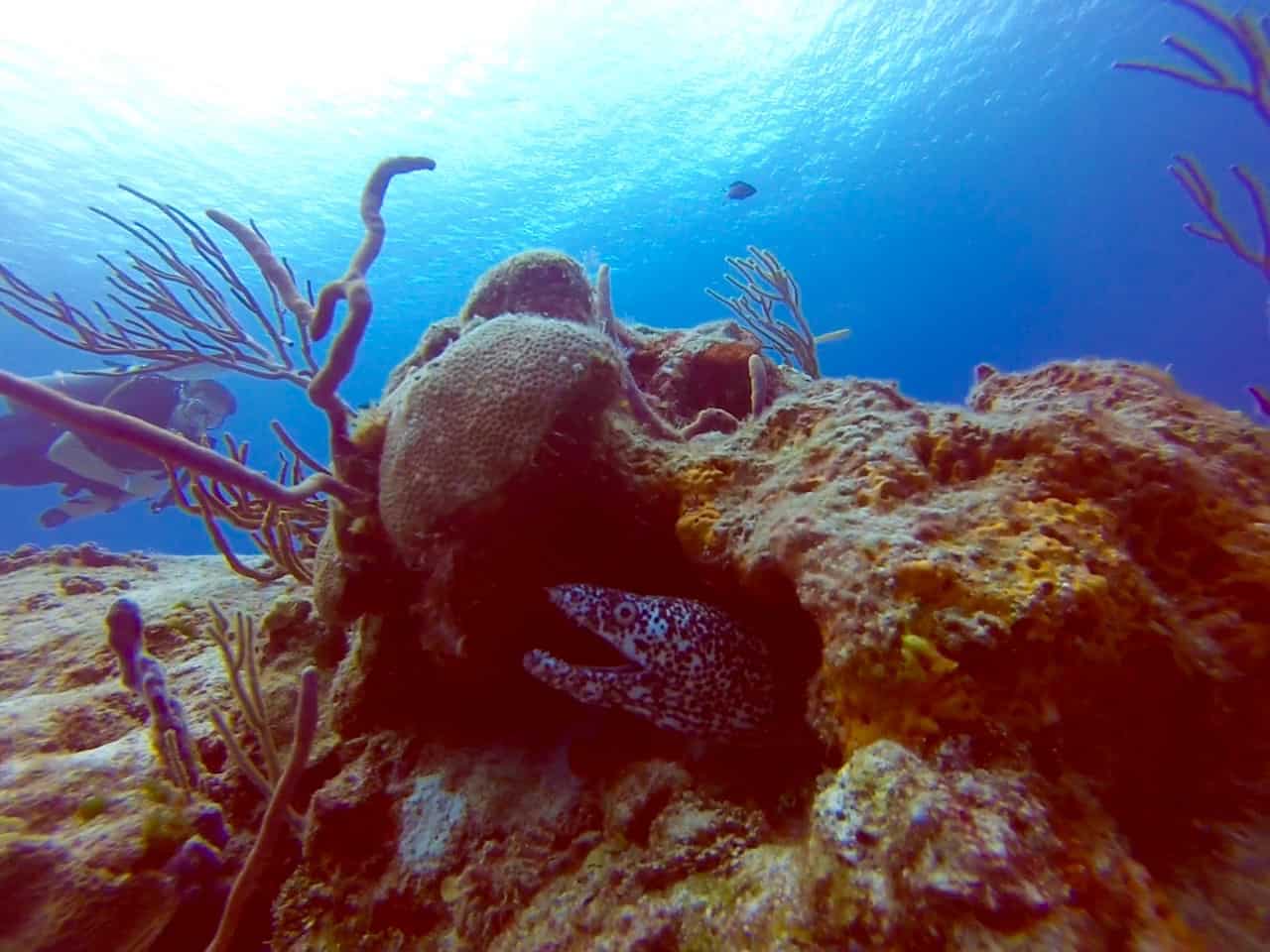 Then spotted stingrays hiding their pretty patterned wings in dark recesses below overhangs.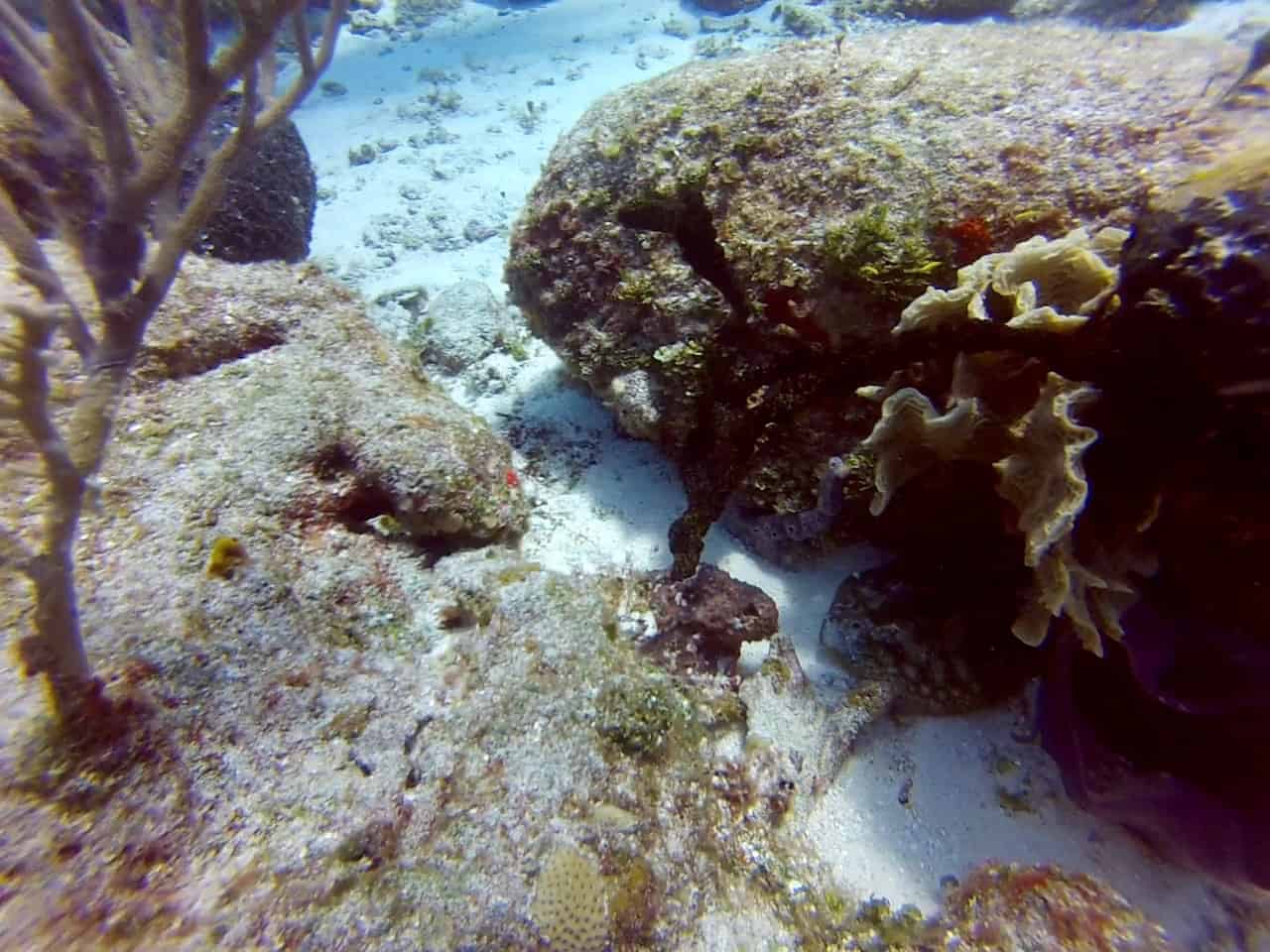 Diving in Cozumel, lucky punters may spot one of the Caribbean Sea's masters of camouflage, the scorpionfish. These guys blend in with the reef so well they can be hard to see, a solid reminder to avoid random touching while under the water, unless you're angling for a handful of venomous spines.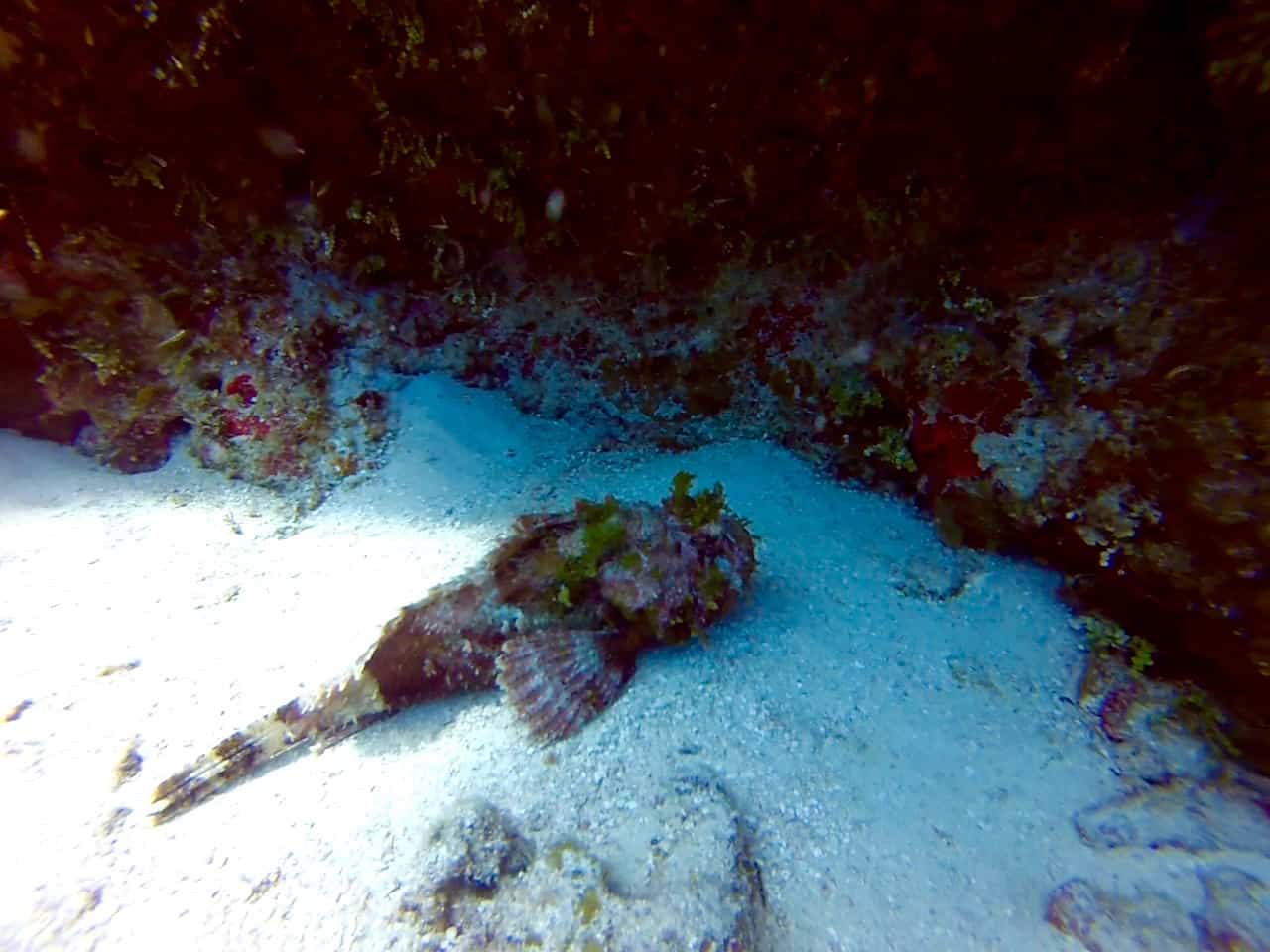 We enjoyed some close encounters with a few large, menacing-looking barracudas hunting in the current.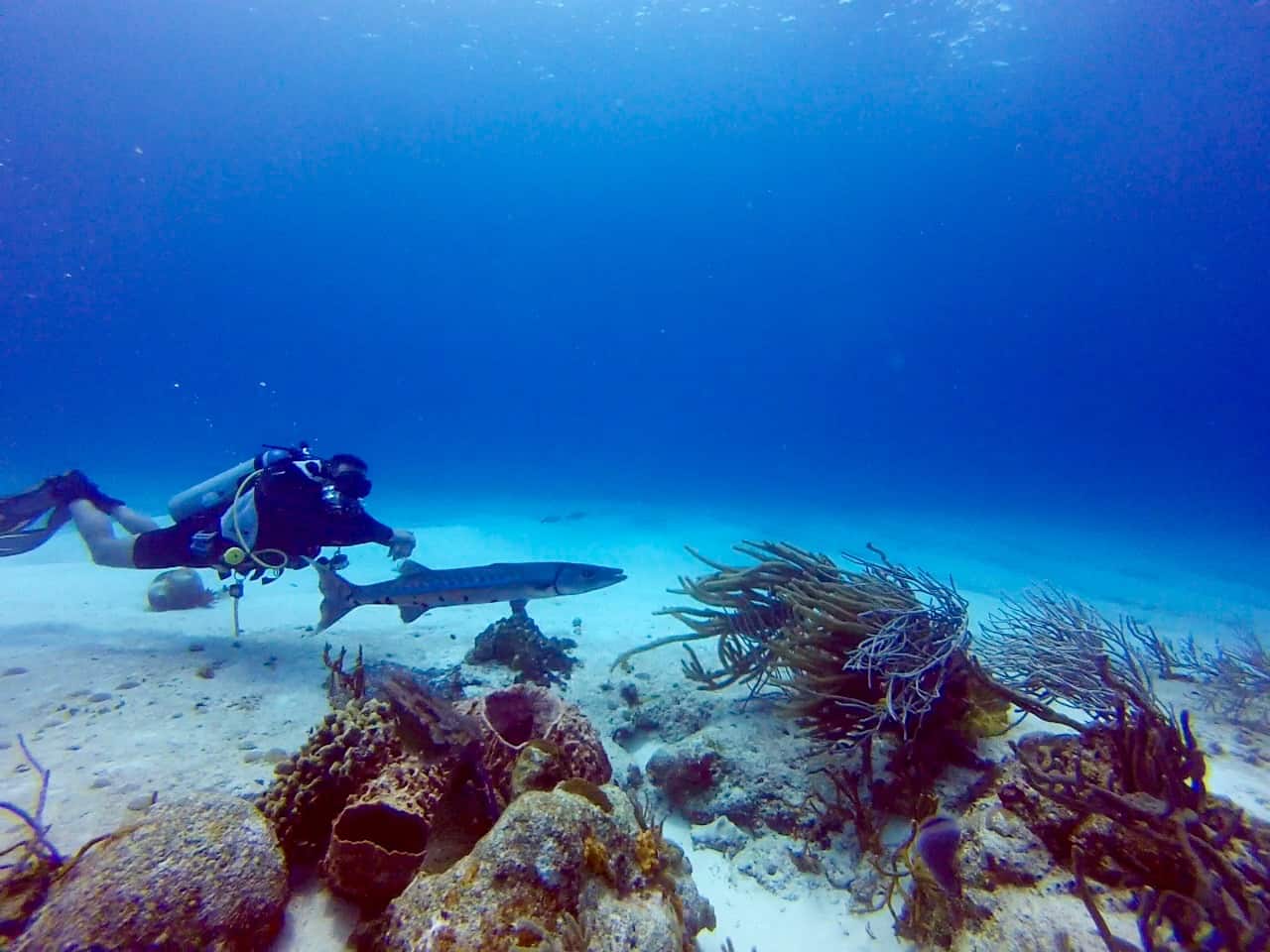 We also found dozens of huge, shy lobsters and crabs peeking out from their coral caves.
Towards the end of our dive, Hugo captured our attention as he floated in front of a low-rise coral bank, jiggling a small lure near the entrance to a small overhang.
Our curiosity piqued, we battled an increasing current to swim over and position ourselves beside the hole to see what he was up to.
At first nothing happened. Then slowly, out of the dark hole, emerged the striking features of one of the most curious looking fish we've ever seen.
Beautifully striped in shades of blue, black and white, with beard-like barbels around its yellow mouth and round yellow fins, the splendid toadfish is endemic to the waters off Cozumel. It makes its home nowhere else in the world.
Hugo later told us that the toadfish are notoriously difficult to encourage out of their coral homes, and our shy pescado was no exception. We were lucky to glimpse the peculiar creature at all.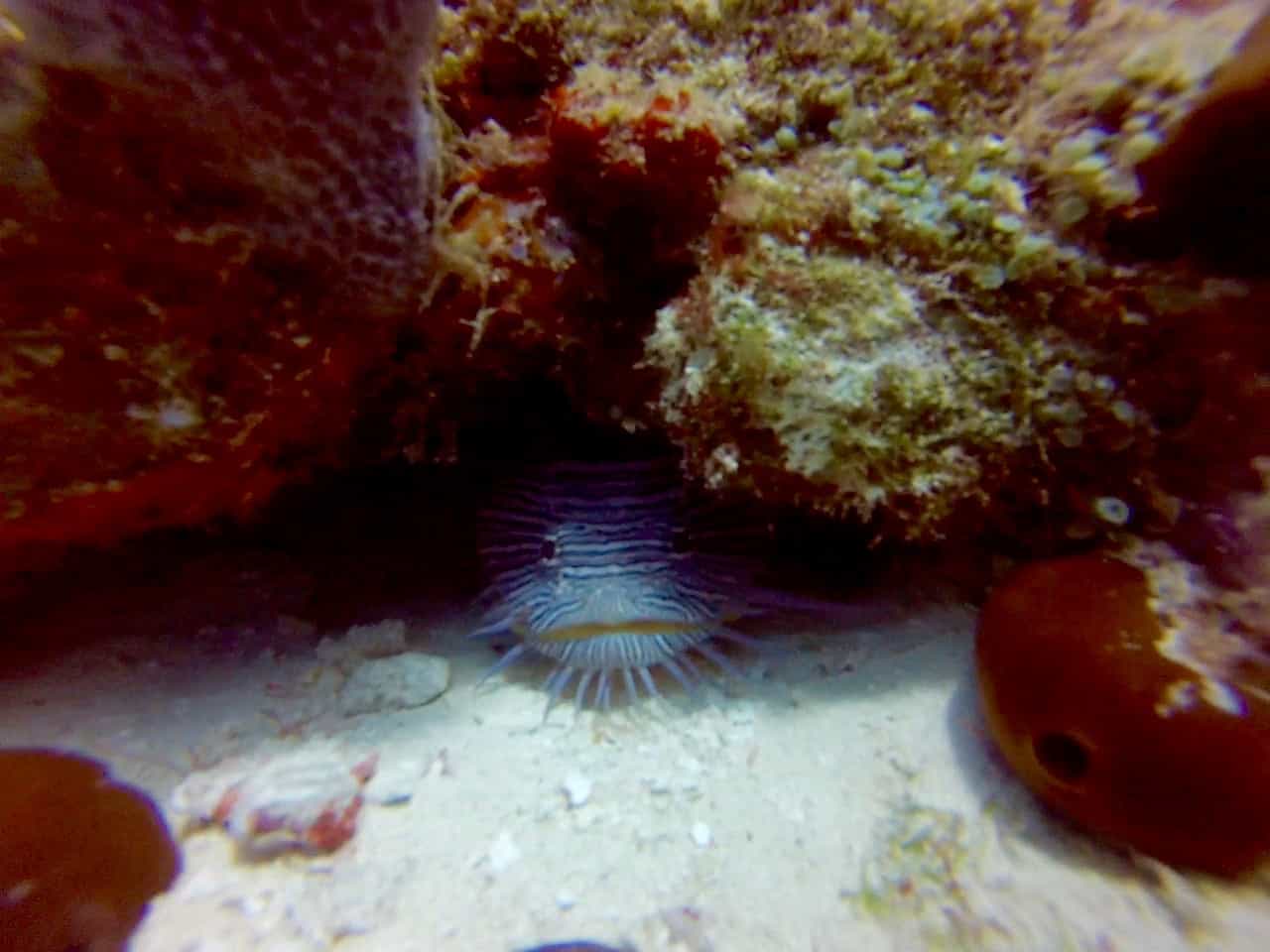 The encounter was brief, but it was the highlight of our day.
With its amazing visibility, beautiful reefs and vivid sea life, diving in Cozumel was an absolute treat and an incredible underwater environment we won't soon forget.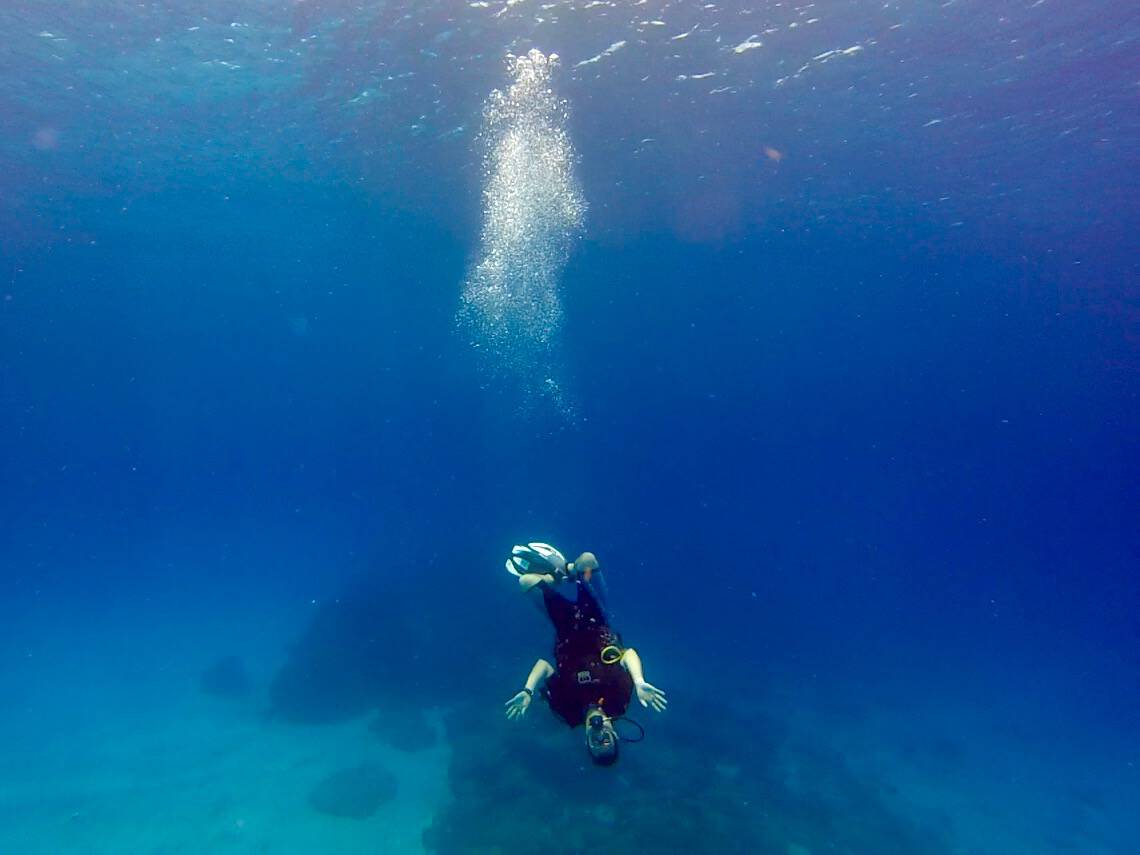 Good to know
Getting there: Cozumel is around 19-kilometres off the coast of Mexico's Yucatán Peninsula and can be easily reached via regular ferries from Playa del Carmen, which take around 45 minutes. You can also fly directly to Cozumel from the USA and Mexico, or alternatively, fly to nearby Cancun, which has flights from Europe and all across the Americas.
When to go: Cozumel is considered a year-round diving destination with warm, clear waters most of the time. The high season runs from December to around April, so the prices will be higher during this time of year. May to September is considered to be the rainy season, however we went in July and had outstanding diving conditions. The hurricane season kicks in towards the end of summer, around August.
Who to dive with: We dived with Blue Life Diving in Playa del Carmen based on their excellent reviews on TripAdvisor. They're a great operation, with friendly and professional staff, excellent safety practices, and decent dive gear that was well maintained. Check their website for multi-dive packages that include reef and cenote diving.