We leave the world behind on a 5-day Isle of Skye road trip, flying into Inverness and out of Glasgow, with 3 full days exploring the moody moors and windswept ranges of this alluring Scottish island.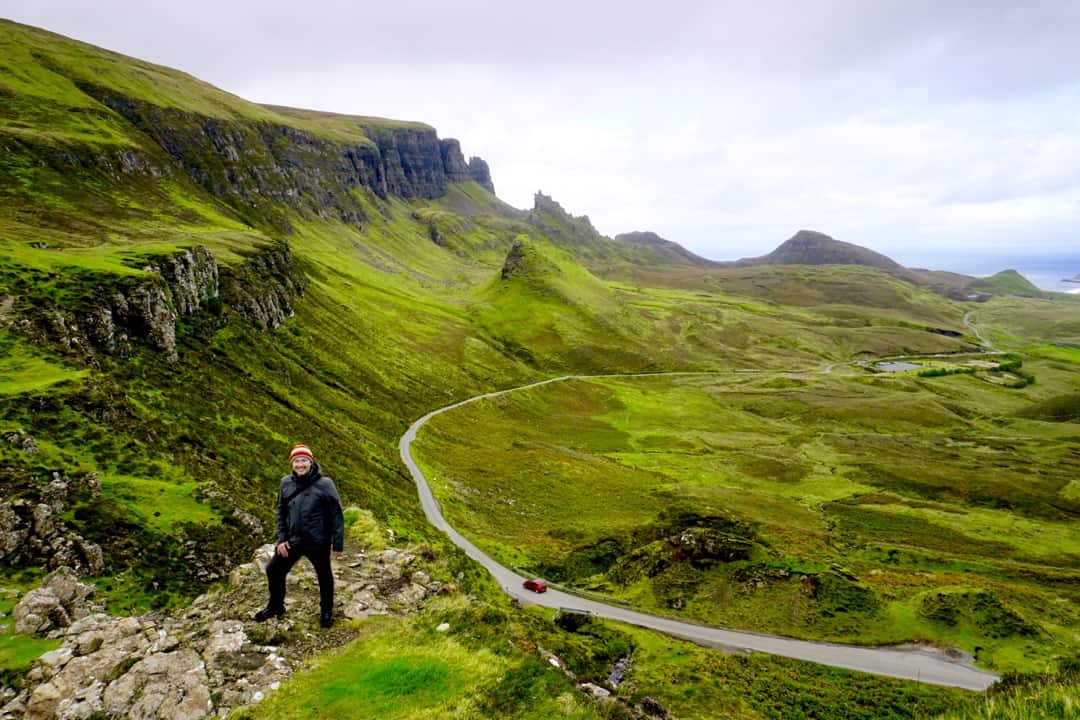 Rugged, dramatic and irrepressible, Scotland's Isle of Skye has a knack of weaving its way into your soul and taking hold. Even as it soaks your shoes, showers you with freezing rain, and does its best to cast you out into the Atlantic on a high wind.
There's something about the place, beyond the blockbuster scenery and the epic Full Scottish breakfasts served up in its B&Bs. It's an island of myth and legend, of fairies, giants and great clan battles.
If you're an all-weather hiker, this is prime walking country, but for the rest of us mere mortals, there's no better way to see the place than on an Isle of Skye road trip.
Planning A Visit To The Isle Of Skye
How Much Time Do I Need?
Skye is around 2 hours from the nearest airport at Inverness, or a 4-5 hour drive from Glasgow. That doesn't mean boring hours of highway driving though: getting to Skye involves road tripping through parts of the Scottish Highlands just as jaw-droppingly beautiful as the island.
Once on Skye, you could rally-car your way around the entire isle in less than a day if you felt compelled, or cherry pick some of its highlights. You'll absolutely wish you had longer.
When putting together our Isle of Skye road trip itinerary, we wanted a couple of days to explore the island at our leisure, stopping whenever we felt like it, and getting out of the car to do some short walks. We also wanted to be able to change our plans if the weather turned. Which it does, regularly and with gusto.
If you're visiting in the peak months, there's even more reason to linger on the island. You'll have time to visit the more popular sites before or after the day-trippers and coach tours have left, and you'll also have the chance to explore some of the more remote and spectacular parts of the island that fewer people get to.
The Isle of Skye road trip itinerary we came up with is a 5-day/4-night drive tour with 3 full days on the island and a day on each side to get there and back. To maximise our Highland exposure en route, we decided to fly into Inverness and out of Glasgow, with a one-way car hire.
Should I Book Ahead?
Our decision to visit the Isle of Skye was spontaneous and lastminute, which was great fun until we discovered that just about every single accommodation on the island was already booked.
The reality is, the secret of Skye is out. Especially over the peak Summer months, when visitors flock there in their hundreds and thousands.
Self-contained cottages, B&Bs, hotels and pub stays can be found across Skye but they're snaffled up quick. You can also hire a campervan (they can book out well in advance too) or – if you don't mind the changeable weather – pitch a tent; there are several campgrounds across the island and wild camping is allowed.
Despite our eleventh-hour planning, we finally managed to secure 4 nights' accommodation, in 4 different pub stays around the island. While you could easily base yourself in one place, moving around the island also means you can maximise your exploring time.
The bottom line? As soon as you have dates and flights in mind for an Isle of Skye road trip, decide on your accommodation, and book ahead.
Hiring a car, on the other hand, is easy and surprisingly cheap from both Inverness and Glasgow. We hired a Kia Rio in Inverness for 5 days for £18 per day, drove around 850 kilometres and used one tank of diesel.
When's The Best Time To Go?
The weather is famously changeable on Skye no matter when you go, but generally, May to September is the best time to visit in terms of weather and longer daylight hours.
June and July are the busiest months on the island. In practice, 'busy' means you can still drive for miles around Skye with sheep being the only sign of life, but it's likely you'll encounter serious crowding at some of the island's major sites, and it will be more of a challenge to book accommodation.
Summer is also when midges come out to play. These wee flying, biting beasties love humid, overcast days and launch their attacks the moment you stand still. On the plus side, they hate wind and Skye has plenty of that.
We did our Isle of Skye road trip in early September and experienced 4 seasons in a day, every day. We drove for hours without seeing another soul, then came across places packed with people. We always carried wet weather gear with us, and found lots of windy places to appreciate the landscape midge-free.
We fell in love with the island. You will too. Let's get road tripping.

Day 1 – Highlands to Island
Our Isle of Skye road-trip starts mid-afternoon at the airport in Inverness. Depending on the time you arrive, you can spend more or less time at each of the next locations. If you drive on to Skye without stopping, the journey will take around 2 hours 15 minutes.
Not far from the airport, we make a short detour to see Culloden Battlefield, the gloomy moor where 1,200 Highlanders met their grisly end in 1746 at the hand of British government forces. There's an excellent visitor centre on site, so linger here if you'd like to know more about this devastating pitched battle, the last in Britain.
Down the road, the busy town of Inverness is the gateway to the Scottish Highlands, and jumping off point for Nessie-hunters seeking the monster that allegedly haunts the depths of Loch Ness. You could spend a day or two exploring here but we're assigning Inverness to a future visit as we've got tracks to make.
Our journey takes us along the western shore of Loch Ness for the next hour, so keep an eye out for the prehistoric beastie en route.
You can also try your luck when we stop for photos at the evocative, loch-side ruins of Urquhart Castle, blown up by the British during the 17th century Jacobite uprising. Or swing by the Loch Ness Centre & Exhibition in Drumnadrochit and check out the 'evidence' for yourself.
When we reach Invermoriston, we head west and into the spectacular Highland landscapes around Loch Cluanie and Glen Shiel. Even with mists shrouding the mountaintops and a light rain peppering the windshield, this is breathtaking country and worth the five hundred-odd stops we'll make along the way.
We finally reach the Skye Bridge in the early evening and cross the chilly-looking waters of Loch Alsh onto the island. We've secured a room at the lovely Royal Hotel in Skye's 'capital', Portree, which is another 50 minutes up the road.
En route, we stop briefly for photos at the Sligachan Bridge, to capture the moody scene of the Black Cuillin mountains as the weather starts to close in.
Day 2 – Hikes, Vistas & Fairies  
Start the day right with a Full Scottish breakfast of eggs, bacon, sausage, black pudding, tomato, mushrooms, bakes beans and potato cake. Don't worry, you'll be working it off: today we're hiking.
Our first stop is just 20 minutes north of Portree, so after a wander around the pretty harbour of the port town, we set off to explore Skye's Trotternish Peninsula.
The Old Man of Storr is one of the island's more unusual geological features. Legend says the huge pinnacle is the thumb of a buried giant, and while it's visible for miles around, it can also be seen up close on a hike.
It's a steep and at times strenuous climb of around a kilometre to the thumb, mostly along a packed dirt path. Head off to the right for even better views over the formation and the Sound of Raasay. It's heart-pumping and the winds at the top are ferocious but the panoramas are spectacular. We spend around 2.5 hours here.
From Storr, we continue our Isle of Skye road trip along the Trotternish loop road until we see a small carpark packed with cars and coaches. This is Lealt Falls, an impressive curtain of peat-stained water crashing into a crevasse leading to the sea.
Our next destination is Skye's most famous site, the Quiraing, which soon comes into view from the road. Green fields speckled with sheep slowly sweep upwards towards the dramatic escarpment. We climb the winding road to the top and park up before setting out east on foot.
The Quiraing hike can be done as a circuit up and over the escarpment before looping back down and along the lower cliffs, but with the weather throwing a barrage of rain, blustery winds and sun at us, we opt for a 'there-and-back' walk instead along the lower cliff path. It's a gorgeous and invigorating hike, even if we're drenched by the time we return. We spend a little over 2 hours at the Quiraing.
From there, we drive across the peninsula to Uig, where a minor road just south of town leads to the mysterious landscape of the Fairy Glen, a quirky valley of grassy, conical hills, tiny lochans (ponds), the ruins of stone cottages, and a towering rocky outcrop. Park up and enjoy a wander among the otherworldly knolls.
Our accommodation tonight is the cosy Stein Inn on the Waternish Peninsula. It's a 45-minute drive from Uig to Skye's oldest inn, but when we arrive, the sun is blasting molten gold through the clouds over Loch Bay. We order fresh local scallops in the pub and follow them up with ales from the Isle of Skye Brewing Co.
Day 3 – Castles, Lighthouses & Peaty Whisky
After another cracking breakfast, we leave picturesque Loch Bay for the wee town of Dunvegan, a 20-minute drive away.
Dunvegan Castle is the stately, 800-year-old seat of the Clan Macleod Chief. Unsurprisingly, it's undergone a couple of renos and expansions in that time, but it's the oldest continually inhabited castle in Scotland.
There's an entry fee for the castle and its gardens, worth it if you get a kick out of ancient homes jam-packed with antique furniture, gilt-edged family portraits and other ancestral knick-knacks. If you do go inside, look out for the Macleod's most precious treasure, the 4th-century silk 'Fairy Flag'; it's said to have magical properties.
A coffee and a 35-minute drive from Dunvegan later, we arrive at Neist Point, a dramatic and windswept stretch of cliffs and coastline on the Duirinish Peninsula. Make your way down the steep concrete path and out to Neist Point Lighthouse for a wander.
If you're up for a climb, a track off the main path cuts through the grass up on to the huge crag halfway to the headland; you'll find incredible panoramas of the coast from up here. Give yourself some time at Neist, the climb back up to the parking is a workout.
From Neist, we make a leisurely, hour-long drive south to the town of Carbost, best known as home to the famous Talisker Distillery, which has been around since the 1830s.
Whether you're a fan of Scotch whisky or not, a tour of a distillery is a fascinating experience in chemistry, physics and the Scottish accent. Tours of Talisker, which finish with a wee dram of their peaty single malt, take place regularly throughout the day but are incredibly popular so book ahead for a late afternoon tour.
Tonight we're dining and overnighting at Carbost's quaint Old Inn, just a few steps from the distillery.
Day 4 – Boats, Seals & Lonely Mountains
Over the Full Scottish yet? We scale it back to a Three-Quarters today but we're still enjoying the epic starter.
Just 15-minutes south of Carbost is one of Skye's most popular sites, the Fairy Pools. These beautiful natural falls and pools can be reached along a path around 20-minutes' walk from the road. Aim to arrive at the Fairy Pools first thing, or you'll be appreciating the scenery with hundreds of others.
Ed's Note: Why no pictures of the Fairy Pools, you ask? This was by far the busiest site we encountered on Skye. We weren't even able to find a place to park when we arrived late morning, so we vetoed the overwhelmed experience in favour of more time at the next (quieter) place. 
The next destination on our Isle of Skye road trip is the village of Elgol, and to get there, we need to cut back across the island to Broadford and then head south-west to the Strathaird Peninsula.
The drive between Broadford and Elgol is renowned as one of the most scenic on Skye, offering spectacular views of the brooding Cuillin Mountains. It lives up to the hype.
We're booked on a boat trip to Loch Coruisk this afternoon. After cruising past rocky islets draped in lounging grey seals, we're dropped off near to where the freshwater loch plunges over rocks into the sea.
We have an hour and a half to hike a trail alongside the loch, taking in the spectacular mountain scenery at the very heart of the Cuillin range.
After boating back to Elgol, we make one last road trip through Skye's stunning mountainscapes to the bridge-side town of Kyelakin. It's our last night on Skye and we finish up the day watching twilight fall over Loch Alsh from the bustling restaurant of the Kings Arms Hotel.
Day 5 – Island To Lowlands
It's the last day of our Isle of Skye road trip and we linger over breakfast (a final, Not-Quite-Full Scottish). We're heading south to Glasgow today. It's a 4-5 hour drive, but we've arranged an evening flight, so we'll be exploring on the way.
Twenty minutes south of Kyleakin, we pass the evocative, 13th-century Eilean Donan Castle. Pop in for a visit or snap some pics and continue on to Fort William. 
Once the site of defensive strongholds against Highland clans, Fort William is the launch pad for mountaineers intending to scale nearby peaks like Ben Nevis, Britain's highest. Despite its backdrop, it's not the prettiest town. Pick up a coffee and roll on to the village of Banavie.
If you're lucky, you may arrive in Banavie in time to see the famous Neptune's Staircase in action. The longest staircase lock in Britain, this series of eight locks constructed in the early 19th century lifts boats some 20-metres as they travel along the Caledonian Canal.
The next leg of our road trip takes just 30-minutes, but the destination is a show-stopper, and it's been ranked among the most epic of Scotland's scenes.
Glen Coe, a narrow valley surrounded by the soaring peaks of the Three Sisters, is eye-wateringly beautiful, but it's also notorious for the tragedy that took place there 325 years ago, when 38 members of the MacDonald clan were murdered by government troops because their chief didn't pledge allegiance to the new monarch in time.
When the mists roll in over Glen Coe, there's a melancholic atmosphere to the place that truly befits its past.
Our lunch spot is in the heart of the glen, at the 300-year-old Clacaigh Inn. Head around the right hand side of the Inn to the Boots Bar, find a table and order a hearty plate of traditional haggis, neeps and tatties.
Ed's Note: The trick with haggis is not to think about what's in it. If you don't know, don't ask, just enjoy. It tastes a whole lot better than it sounds, trust us.
We stop at least a dozen more times to take pictures before leaving the Glen behind and making our way south towards the vast Loch Lomond and Trossachs National Park. Much of our journey is alongside the great Loch Lomond, a natural boundary as we leave the Highlands behind and move into the Central Scottish lowlands.
As we reach the southern end of Lock Lomond, we move into the outskirts of Glasgow, Scotland's largest and arguably its liveliest city. It's worth a couple of days in its own right so put it on the list for a future visit. Soon enough, we hit traffic on the way to the airport, a solid reminder that we're back in the real world.
After road tripping through one of the most beguiling islands on the planet though, there's a good chance you'll have left a little piece of your heart on Skye.
~~
If you're looking for more great road tripping itineraries and adventures, check out our Road Trips category!