Santiago is a gateway hub for South America and yet for many people, Chile's capital is just a transit to somewhere else. We're on a mission to prove why this vibrant city should be more than just a stopover.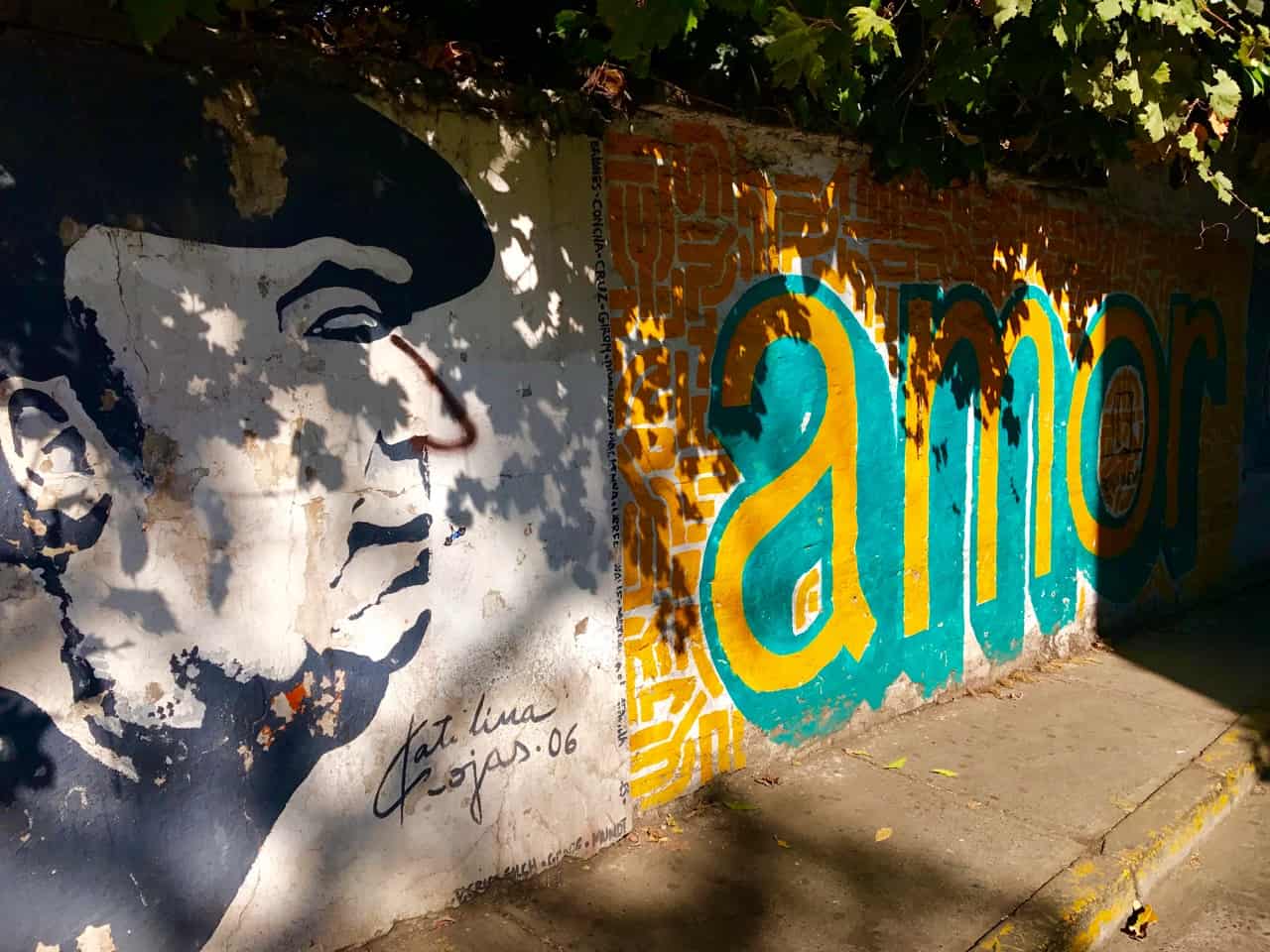 Up until recently, Santiago was one of those places that we managed to repeatedly overlook. Like Dubai and Abu Dhabi, we landed there a number of times, but always in transit.
We're not quite sure why Chile's capital didn't rank on our travel radar sooner; when it became clear though that our South American travels would have us passing through the city several times this year, we decided it was time to get out of the airport.
What we found was a complete surprise.
Not only is Santiago vibrant, friendly, cosmopolitan and beautiful, it also has a fascinating cultural and political history, along with a lively, modern food and drink scene that wouldn't be out of place in New York or London.
We wish we'd discovered Santiago sooner. So if you're like us, and you've been sitting on the proverbial fence, here are 20 cool things to do in Santiago that might convince you to turn your stopover into a stay.
Explore Santiago's City Highlights On A Walking Tour
We love exploring cities by foot, and we like it even more when we have a local sharing their city with us, so we were delighted when we discovered Tours4Tips in Santiago.
With their distinctive Where's Wally red-and-white striped shirts, fun and knowledgeable guides, and pay-what-you-feel-is-fair approach, we had a great vibe from the start.
The three-hour Santiago Highlights Walk is a great way to get oriented in the city, taking in the Plaza de Armas, Presidential Palace, and GAM Cultural Centre.
You'll learn all about the city's colonial past, street art, political strife, and cultural life, as well as getting an introduction to the metro.
Experience The Museum Of Memory And Human Rights
If you pick just one museum when you visit Santiago, make it the Museum of Memory and Human Rights.
Easily one of the most profound and moving museums we've ever visited, the Museum of Memory was created as a memorial to, and commemoration of, the victims of the 1973 – 1990 dictatorship of Augusto Pinochet.
The Pinochet regime oversaw human rights abuses on a vast scale, a dark period that divided families and friends, and left an indelible mark on the society.
The museum is set out over three floors, with innovative and interactive exhibitions that explore the timeline of events from Pinochet's coup through to the end of his rule, and efforts since to build remembrance and cultural respect.
Pinochet is a sensitive topic for Chileans even today so a visit to the museum, while confronting, is an exceptional and eye-opening insight into Chile's past that will help frame your understanding of where the country has come from and where it is today.
Enjoy A Seafood Lunch At The Mercado Central
If you're a fan of seafood – and even if you're not – be sure to visit Santiago's Mercado Central while you're in town.
With a coastline stretching more than 4,000 kilometres along the Pacific Ocean, fishing is a major industry for Chile and seafood is abundant. For Santiago locals, the best place to land some of this fresh catch is at the city's famous Mercado Central.
The 19th-century building that houses the market is a drawcard in itself, with an ornate wrought-iron roof. Dozens of seafood restaurants fill the main space, serving up a range of Chilean specialties.
Avoid the market's central restaurants, these are geared towards tourists and the prices are jacked accordingly.
Hit up one of the tiny hole-in-the-wall restaurants lining the outer edge of the market instead, squeeze onto a table with the locals and order a delicious bowl of seafood-bursting Paila Marina.
Watch The World Go By In Plaza De Armas 
For some of the city's best people-watching, head to popular Plaza de Armas, Santiago's main square and its urban heart and soul.
Here, tourists, street performers, pop-up food and book stalls, sculptures, fountains and locals collide in a chaotic, colourful melee that makes for compulsive viewing.
Playing a key role in the civic life of Santiago since the city was founded in 1541, Plaza de Armas is surrounded by some beautiful historic buildings like the Palacio de la Real Audiencia de Santiago, the Central Post Office Building, and the grand, neoclassical Cathedral Metropolitana, which is definitely worth a walk through.
Take In The Views From Cerro San Cristobal
For a real sense of Santiago's sweeping cityscape, head to the peak of Cerro San Cristóbal, 300-metres above the city streets.
If you've got the energy, you can walk to the summit, a hike of around 45-minutes to an hour. Or you can take the funicular that departs next door to the zoo. Either way, the views as you climb above the city are impressive.
At the top of the cerro, you'll find an amphitheatre, a chapel and a 22-metre-high statue of the Virgin Mary which is lit up at night and visible from around the city. There's a cafe nearby if you're parched after the trek.
Find a spot on the steps in front of Mary and enjoy the panoramas of Santiago's sprawling, mountain-ringed metropolis.
Cerro San Cristobal is an awesome spot to catch sunset, just be sure not to miss the last funicular like we did: it's a long walk back down in the dark.
Down A Terremoto Then Follow It Up With An Aftershock…If You Dare 
In a region famous for earthquakes, the Chilean sense of humour (or irony) is obviously at play in the name of one of the country's most popular drinks: the Terremoto, which literally translates as 'earthquake'.
A bright pink alcoholic beverage most often served during Chile's national holiday (but available anywhere, anytime, really), the Terremoto is made with a sugary, fermented wine known as pipeño, pineapple ice cream, and either fernet or grenadine.
Having each downed one of these sickly-sweet concoctions, we're fairly certain the name has more to do with the seismic effect the drink has on the imbiber, rather than any geological activity.
If you're game enough for a second round though, ask for an 'aftershock', a smaller version of the original drink. Trust us, you'll thank the bartender the next day.
Sound like your kind of tipple? The best place in Santiago to try a Terremoto is La Piojera, a bar once dubbed 'Santiago's oldest and best dive bar' by the Huffington Post.
Gritty and loud, La Piojera is chock full of character and colour, with murals and graffiti on the walls, friendly staff, and plenty of merry patrons on quaking legs. Just go gently on the Terremotos, they're way stronger than they taste.
Watch The Changing Of The Guard At La Moneda Palace
We stumbled across this ceremony by chance one morning on the way into town and while we aren't normally big on pomp and ceremony, the daily Changing Of The Guard is one of a handful of free, easy and eye-catching things to do in Santiago.
The ceremony takes around 30-minutes and centres on the meeting of the old and new guard detachments in front of La Moneda Palace with two units on horseback, a swapping of salutes, and a marching departure to the accompaniment of a military band.
Watching the Changing of the Guard is also a great opportunity to take in La Moneda Palace, originally the city mint and today the seat of the President. La Moneda was bombed by the Chilean Air Force at the commencement of the Pinochet coup d'état of 1973 so what you see today is the result of heavy restoration. The history here is powerful stuff.
The Changing of the Guard takes place every two days, at 10am on weekdays, and 11am on weekends. Check the local tourist information when you arrive in Santiago though if you want to be sure to catch it.
Stroll Through The National Museum Of Fine Arts
If you're joining a city walk with the guys from Tours4Tips, then your meeting place will most likely be outside Santiago's Museo Nacional de Bellas Artes.
Housed in the Palacio de Bellas Artes, a grand neoclassical building from 1910, this fine arts gallery houses more than 5,000 Chilean and international artworks and sculptures from colonial days up to the present.
It's worth checking the museum website for the latest on exhibitions. While some of the rooms were closed during our visit, we enjoyed a pre-tour stroll through one of the temporary exhibitions.
This museum is another contender for free things to do in Santiago, so even if time is short, it's worth popping into the building just to lay eyes on the huge glass cupola that sits atop the central hall.
And if your artistic tastes sway more towards modern art, the Museum of Contemporary Art is right next door.
Explore Santiago's Gritty Heart On An Offbeat Walking Tour
Nothing beats having a local guide when you're visiting a new city, especially for getting off the beaten track and into areas you might not find – or wander through – on your own.
We liked the Tours4Tips Santiago Highlights Walk so much that we also signed up for their Santiago Offbeat Walk. This quirky tour leaves the touristy city centre behind to explore the grittier side of Santiago's river.
Santiago is a city of more than six million people and on this tour, you'll hear stories about the lives and livelihood of 'La Chimba's' hard working locals as you wander through the streets and visit the local market, before winding up in the city's epic cemetery to see how the wealth gap plays out in the afterlife.
As we mentioned earlier, Tours4Tips is a pay-as-you-like model and the lively tour guides work their butts off to give you a memorable experience of their much-loved city.
Meet The Ghosts Of Santiago's Past At The General Cemetery
Even if you don't do the Offbeat Walk, one of the most memorable things to do in Santiago is visit its vast necropolis, the General Cemetery.
Covering an area equivalent to roughly 140 football fields, and final resting place for more than 2 million souls, this is one of the continent's largest burial grounds and a sprawling contrast of rich and epic mausoleums, respectable middle class tombs and crumbling storied niche blocks for the poor.
Some of the country's most illustrious figures are buried here, as are some of its poorest. Years of neglect and earthquake damage only add to the cemetery's moody ambience.
It's worth devoting a couple of hours to wandering the estate, but go with a guide if you can, you'll take away much, much more.
Give Some Lovin' To Santiago's Friendly Street Dogs
If you spend any time walking while you're visiting Santiago, you'll almost certainly meet some of the city's most endearing residents: the street dogs, known locally as 'quiltros.'
Charming, resilient and streetwise, Santiago's canines can be found in just about every plaza, park and playground. Unlike in many countries we've visited though, these street dogs are remarkably comfortable around people and, more often than not, are curious and friendly.
On talking to locals, we discovered this is probably because in Chile, the concept of quiltros is that they are 'nobody's dogs and everybody's dogs.' In other words, they are cared for by the community. It certainly seemed to be the case; we often saw locals providing street dogs with food, playtime, cuddles, even coats.
Of course, there are still questions about veterinary care and overall quality of life, but the city's dogs are nevertheless an intrinsic part of the Santiago experience. So please keep an eye out for them and if you're a dog lover, unleash some love and dog biscuits on them.
Munch On A Chilean Classic With An Empanada De Pino
An empanada a day keeps the hangry away. That's our mantra when we're travelling in South America anyway, and Chile's huge empanadas are guaranteed to cure those mid-afternoon, pavement-pounding munchies.
While Chilean empanadas come in all the usual flavours, Pino is by far the country's most popular version of the delicious pastry pocket: a filling of seasoned mince beef with onions, olives, raisins and a slice of boiled egg.
You can pick up an empanada just about anywhere but if you're visiting Santiago's city centre, then drop a pin on Emporio Zunino. The narrow, crowded, standing-room only empanada house has been baking up a pastry storm for more than 85 years so they know their Pino.
Buy a couple of the classics, and maybe one of their flaky pastry cheese editions, elbow your way to a table, and start your empanada love affair.
Search Out Santiago's Vibrant Street Art
You don't have to look hard to find splashes of street art colour around Santiago. Some say it's one of the best cities for street art in the world.
While the murals here maybe aren't quite as extensive as the painted city of Valparaiso (a couple of hours from Santiago and definitely worth a visit if you have time), there's still plenty of artful wandering to be had.
Neighbourhoods like Barrio Bellavista and Barrio Brasil are great for simply strolling for street art, while a project in San Miguel has turned it into an open air museum, with 40 large murals revitalising its crumbling streetscape.
If you find yourself near to Metro Bellas Artes, be sure to check out the two huge murals by renowned Valparaiso artist INTI.
If you're after a street art guide while you're visiting Santiago, there are also companies offering specialised tours of the street art scene.
Pay A House Visit To Pablo Neruda's Stylish Digs
Built as a love nest and named 'La Chascona' – tangled-haired woman – for the love of his life, Pablo Neruda's extraordinary house is a must-see when visiting Santiago.
The poet, diplomat, author and politician was a force of nature, a champion of leftist politics, and one of Chile's great luminaries until his untimely death in 1973, which some say was on the orders of Pinochet.
Although a museum these days, Neruda's split-level, indoor-outdoor home at the base of Cerro San Cristobal is definitely no fusty gallery full of tired old furniture.
Restored and packed with his personal belongings, La Chascona is a testament to Neruda's creativity, his passion, and his penchant for collecting unique and beautiful things on his travels.
His larger-than-life character and style, and his great love for Mathilde, live on in this quirky and unusual home.
Sample Some Chilean Brews In A Craft Beer Joint
After decades of large scale brewers dominating the market, craft beer has taken off in a big way across Chile, and nowhere more so than in the nation's capital.
Boutique breweries, craft beer shops, and hip brewpubs are everywhere, providing visitors with a great opportunity to try out some of Chile's most interesting and innovative beers.
If you're out and about in Bellavista, check out Loom Bar, which is something of a local beer mecca. Here you'll find a decent range of beers on tap, as well as tasty food and, if you're there on the right night, free beer talks and paid tastings.
Another great option is José Ramón 277, near the Centro Gabriela Mistral Cultural and Performing Arts Centre in Lastarria. It's a small, casual, friendly bar with a wide range of beers on tap.
We had limited time for beer tasting this time around, but with plenty of breweries around Santiago we'll definitely be dedicating some more intensive brew time on our next visit.
Tuck Into a Tasty Bowl Of Pastel De Choclo
Growing up, Cottage Pie and Shepherd's Pie were firm favourites in both our households, so when we heard about Chile's traditional local version, Pastel De Choclo, we had to try it.
To be fair, Pastel de Choclo is really nothing like cottage or shepherd's pie. Both sweet and savoury, this Latin casserole brings together a bunch of flavours in a meaty base of beef, chicken, onions, olives and boiled egg (sounds like that Pino empanada, right?), which is covered in a layer of thick, creamy mashed corn and then baked in the oven where the top-most layer caramelises (*mouth waters*).
Served up with a glass of delicious Chilean Carménère wine, this is comfort food like nobody's business – perfect for a winter's day. Or any day, really. No matter what time of year you're visiting Santiago, make time for this dish.
As traditional fare, you can find Pastel de Choclo all over Santiago and Chile, but for the real deal, head to Galindo in Providencia.
Marvel At Chile's Creative Past At The Museum Of Pre-Columbian Art
You've done the Museum of Memory but you have time for one more museum while you're visiting Santiago. Stop looking now and make it the Chilean Museum of Pre-Columbian Art.
You won't find a musty old oil painting in sight at this beautiful, contemporary tribute to the Pre-Columbian peoples of the Americas.
Housed in a stunning, 19th-century palace, the museum brings together a spectacular array of art and artefacts from different cultures across Latin America spanning thousands of years up to the arrival of Europeans.
On the lower floor, a stunning permanent exhibition called Chile Before Chile tells the story of the country's own Indigenous peoples, from the distant past through to today.
We've been to many, many museums in our travels and these days we can be a bit of a tough audience. This museum took our breath away. Not only are the exhibitions striking, but the artworks and artefacts on display are masterpieces.
Get Your Juices Flowing With A Steak And Wine Dinner
Argentina may get all the regional red meat and wine accolades, but Chile can definitely hold its own.
A steak and wine dinner was high on our gastronomic agenda when we arrived in Santiago, and we weren't disappointed.
Chilean Cabernet Sauvignon and Carménère are some of the best red wines we've tasted during our South American travels. For the most part, they're also very affordable.
There are excellent steak houses all over Santiago, but we found our own meat mecca in Las Vacas Gordas (fittingly, 'the fat cows'), a local steakhouse in Barrio Brasil, just around the corner from where we were staying.
It might be going a step too far to say our slabs of sirloin were superior to our all-time favourite steak restaurant in Bariloche, Argentina, but Las Vacas Gordas tempted us back. Twice.
Escape The City And Go Bike Riding In A Winery
Surrounded by mountains, Santiago sprawls across the wide, mostly flat Maipo Valley. Jesuit priests travelling with Spanish conquistadores in the 16th century saw the potential in the fertile soil of the valley and planted vines in the 1540s.
Today, Chile is one of the great New World wine producers and the Maipo Valley a key player. While vineyards once stretched for kilometres, urban sprawl has forced them towards the mountains but several wineries are still within spittoon distance of the city, making for a very easy wine tasting day trip.
One particularly awesome way to experience Maipo wines is on a bike and wine tour of the Cousiño Macul winery, one of the oldest in Chile.
The tour, run by La Bicicleta Verde, involves a gentle cycle through the pretty, mountain-backed vineyards, a tasting among the vines with the city in the distance, another gentle pedal back to the winery and a series of house tastings. Tough work, right?
We wrote a blog about the experience if you need more convincing.
Plan Ahead And Get Chanting At A Football Match
I'm (John) football mad, so an opportunity to see a game in Santiago, surrounded by some of the most passionate fans in the world was pretty much at the top of my list of things to do in Santiago.
Upon arrival, I was even more excited to realise the coming weekend featured a 'classico' match between two of Santiago's biggest clubs, Universidad Catolica and Universidad De Chile.
Unfortunately, my excitement turned to frustration when we realised the game had been sold out for some time, and despite our best efforts, we couldn't find any tickets for sale.
If you're keen to go to a game while you're visiting Santiago, my advice would be to plan well ahead. I was told that some clubs sold tickets directly through their websites, while tickets for other games could be purchased through online ticket agencies. We were also told that tickets for most games could be purchased directly at the stadium either in advance or on the day of the game.
Good to know
Getting there: As a major regional hub, there are international flights to Santiago from Australia, North America, Central America and Europe. Many domestic airlines also fly via Santiago, while long distance and international buses from across Chile, Peru and Argentina all connect in Santiago.
Getting around: Staying in Barrio Brasil, we found Santiago to be a fairly walkable city for the most part, with many of the major attractions within walking distance of the city centre. Santiago's extensive metro system is cheap, clean, efficient and very easy to use, and a blessing on hot afternoons when your feet are starting to protest. We also found Uber to be widely available across Santiago and very reliable.
Where to stay: Like any major city, Santiago has accommodation options to suit all tastes, from budget to luxurious. We stayed at a huge, rambling hostel in Barrio Brasil which was fairly priced, close to three metro stations, and within walking distance from the city centre.