Thinking about visiting Antarctica but wondering where to start? We've compiled all the questions we had and more about making the big decision to travel to this incredible continent.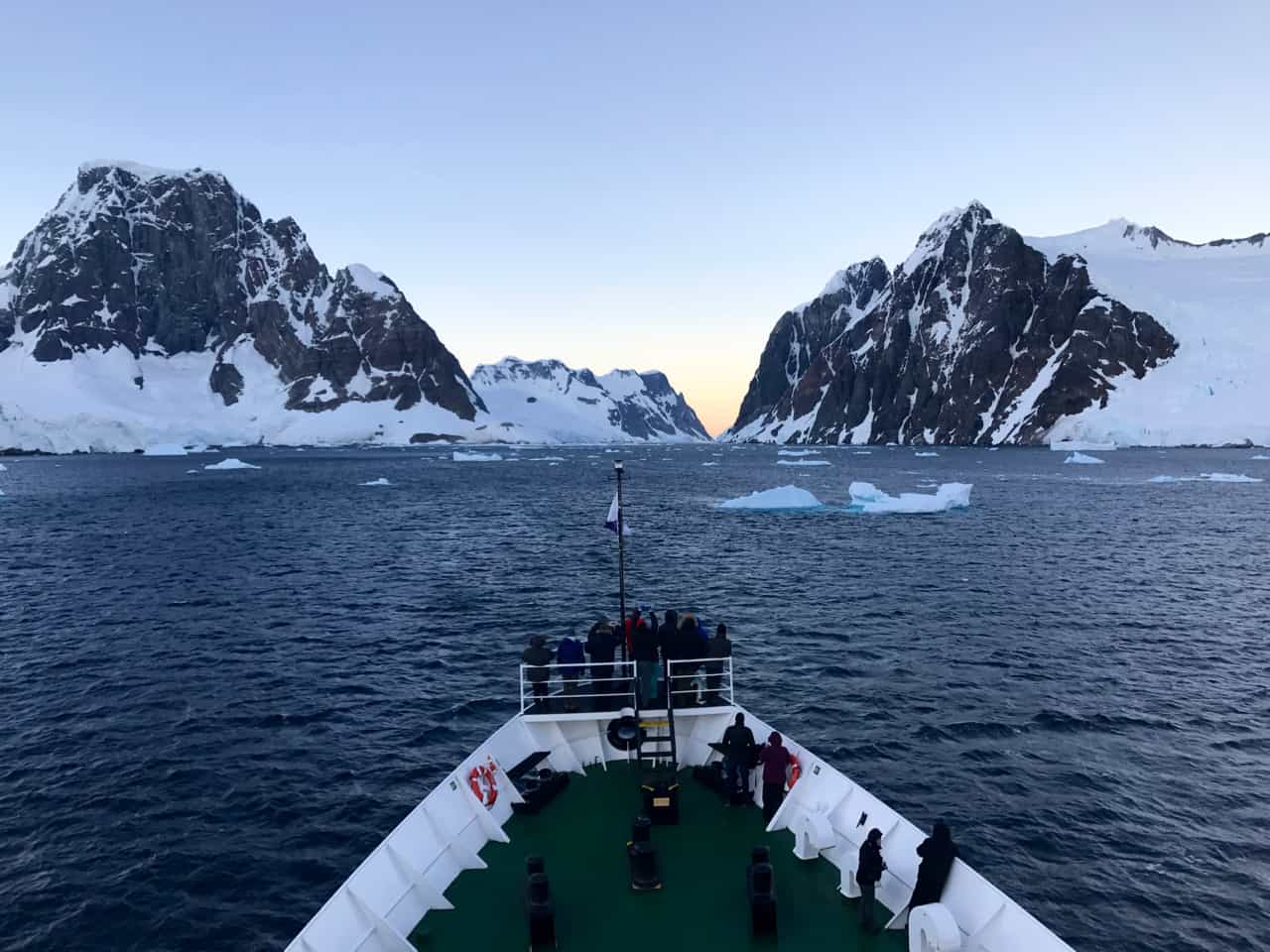 Antarctica. It's one of our final frontiers: a vast, icy, untouched wilderness that is beyond spectacular, and unlike any other place you'll ever visit.
For about as long as I've had a travel bucket list, Antarctica has been at the top of it. When I met John, it migrated to the top of our joint bucket list. It stayed there for years, gathering dust like a confiscated toy on the top shelf of the bookcase.
Because let's face it, Antarctica is no cheap and easy getaway. We spent years debating the merits versus the costs. Inevitably, we'd opt for the more affordable bucket list candidates, telling ourselves we'd get to Antarctica…one day.
In 2016, in the midst of planning a trip through South America, we made a call. We didn't want to wait until we were retired. We'd saved hard but there was never going to be a time when visiting Antarctica was budget-friendly. It was now or never.
Eight months later, towards the end of the 2016-17 Antarctic travel season, we boarded an expedition ship in the town of Ushuaia, Argentina, and set out to cross the Drake Passage.
There aren't words enough to describe the experience. Antarctica is, simply, the most breathtaking and extraordinary place we've ever been.
It was still the toughest and most heavily researched travel decision we've made. As it should be. Visiting Antarctica is the trip of a lifetime.
In this post, we've pulled together the answers to some of the biggest questions we had before we travelled, and those that we get asked most often now that we've been.
How much does it cost?
Let's get straight to the elephant in the room. Visiting Antarctica is expensive, no matter how you look at it. In terms of cost per day, it's by far and away the most expensive single trip we've ever made.
We booked our trip 8 months out, choosing a fare at the lowest end of the scale, with no optional extras and travelling towards the end of the season. It still cost us over USD$5,500 each.
Was it worth every damned penny? Beyond a doubt.
For the savvy few, there are lastminute deals to be had for cruises to Antarctica. But you can also nab a great price simply by booking your tickets well in advance, as many operators offer early bird discounts.
Costs for visiting Antarctica vary significantly depending on factors like the type of ship, cabin size and facilities, length of the cruise, where it goes, when in the season you travel, and what kind of optional activities the cruise offers.
You also have to factor in the costs of getting to your departure point, staying there before and after your cruise, and paying for additional onboard costs like alcoholic beverages, crew tips and souvenirs.
We've put together a post on choosing the best Antarctic cruise for you, so check that out for more on this topic.
Why is it so expensive?
Because visiting Antarctica is an extraordinary travel experience.
Apart from being one of the world's most remote destinations, Antarctica is a uniquely pristine and fragile environment, with high levels of environmental and wildlife protection.
This translates into tight regulations for Antarctic tourism operators, such as minimum crew-to-passenger requirements, caps on numbers of people making shore landings, strict guidelines on wildlife watching, high levels of safety planning and much more.
Expedition ships making the journey to Antarctica are no ordinary boats either. They're designed with ice-strengthened hulls and, with the environmental extremes they're exposed to, like big seas, high winds and icy waters, they require constant maintenance.
It also takes a huge team of people to run an Antarctic cruise. While we had daily contact with our extraordinary crew of guides, environment and wildlife experts, zodiac drivers, bartenders, room stewards and waitstaff, there were literally dozens more crew members working behind the scenes to ensure our trip ran smoothly, from the engine room to the kitchen to the bridge.
Finally, the season for travelling to Antarctica is just five months of the year. There are a finite number of cruises making the journey over that period, and plenty of global demand.
It all adds up to a travel experience unlike any other, and the cost reflects it.
What About Lastminute Deals?
We've all heard stories of people turning up in Ushuaia, hanging around for a couple of days and landing an incredible lastminute deal for a cruise to Antarctica.
We've also personally met people who spent weeks in the world's southernmost city waiting for a discounted fare within their budget, only to end up disappointed.
So what's the deal?
There are definitely lastminute fares to be had for visiting Antarctica. We saw shops all over Ushuaia promoting discounted trips. But what constitutes a 'deal' depends on your expectations to start with.
The cheapest lastminute fare we saw advertised was USD$5,000. That's still a bucket of money, but you're probably getting a hefty discount on what was a much more expensive fare to start with.
Just because we didn't see anything cheaper doesn't mean there aren't better deals out there.
The situation changes year to year, even week to week throughout the season. We're guessing though that USD$5,000 is probably the lower end of the discount spectrum these days.
The other thing is, you don't have to be in Ushuaia to find a deal. You can sign up for fare alerts online, and keep tabs on Antarctica travel websites for lastminute fare postings.
At the end of the day, if you have the flexibility to depart at a moment's notice and you're prepared for the risk that you might not find what you're after, then hanging out for a lastminute deal might be worth a try.
If, however, your goal is visiting Antarctica on your own terms and with a level of certainty about the kind of trip you're going to have, then book your tickets well in advance.
Having said all that, if you do find a lastminute deal for under USD$5,000, let us know, we'd be very tempted to go back!
Where do Antarctic cruises leave from?
For most people travelling to Antarctica, chances are you'll be joining your cruise in Ushuaia, Argentina, the world's southernmost city and the closest launch pad for the Antarctic Peninsula.
Cruises to Antarctica also depart from Chile, Uruguay, New Zealand, Australia, sometimes even South Africa.
Unless you're with an Antarctic research mission though, or you're embarking on a longer journey to one of Antarctica's more remote destinations, Ushuaia is the most typical jump-off point.
Ushuaia is easily reached by plane from Buenos Aires, or by a combination of epic bus journeys through Patagonia.
We flew into Ushuaia, joined our Antarctic cruise, and then overlanded from Ushuaia into Chile aboard some very comfortable buses.
Where do cruises go to in Antarctica?
Antarctica is around twice the size of Australia, so it makes sense that passenger cruises generally aim for the most accessible points of the continent and its islands.
The most typical Antarctic cruises departing from Ushuaia visit the northern tip of the Antarctic Peninsula and the islands off its western coast.
Some cruises dip into the Weddell Sea on the eastern side of the peninsula, while others feature 'crossing the circle' (the most southerly latitude on the map) as a highlight.
Still other cruises focus on the rich wildlife scene of the Falkland and South Georgia islands. A handful of cruises out of Australia and New Zealand visit the remote Ross Sea.
While all cruises to Antarctica have an itinerary however, no two trips are alike.
Even the same itinerary will offer up a completely different set of experiences from week to week.
Weather, time of season, wildlife activity, research station schedules, landing restrictions, other ship itineraries and more will all influence the places visited and activities planned on any given cruise.
On our ship, we received a briefing from the crew each evening about what was planned for the next day – all things going well. Each morning, a schedule was posted with the latest advice.
From hour to hour though, plans had the potential to change.
If we spotted whales while on the move, the ship would stop so we could watch them. If the weather suddenly closed in, different landing sites would be investigated.
Weather turns on a dime in Antarctica and bad weather can mean excursions are cancelled altogether for safety reasons.
The most important things to take with you when visiting Antarctica are flexibility and an open mind. Whatever your final itinerary looks like, it will be unforgettable.
How do I choose which Antarctic cruise to go with?
There are a wide range of factors to consider when deciding on the best Antarctic cruise for you. At the end of the day, it's a very personal decision.
We've reflected on this question in more detail in our post, How To Choose The Best Antarctica Cruise For You, but things to think about, beyond the cost, include the itinerary, where the ship leaves from, departure dates, cruise length, the size of the ship, the number of passengers onboard, the level of comfort you want, and the experiences and activities offered.
Given the pristine nature and environmental fragility of Antarctica, it's also important to go with a company that places a high priority on both protection of the environment and the safety of passengers.
Check that the cruise company you are considering is an active member of the International Association of Antarctica Tour Operators (IAATO).
When is the best time to visit Antarctica?
The Antarctic season is a short one, around five months over the southern hemisphere summer. Cruises typically run from November through to the end of March.
There really isn't a 'best time' for visiting Antarctica; you'll see amazing landscapes and wildlife no matter when you go.
But time of season does make a difference to fares and the kinds of wildlife encounters you'll have.
December to February are the peak months for visiting Antarctica, while November and March are shoulder months.
In and around the Antarctic Peninsula, the start of the season offers more sea ice and the chance to see courtship and breeding activities unfold for Chinstrap, Adélie and Gentoo penguins (unless you're visiting the Weddell Sea, Emperor penguins aren't commonly seen around the Antarctic Peninsula). Other seabirds like cormorants, petrels and skuas are also nesting at this time.
Penguin chicks are hatching in January, and throughout February the colonies are bustling with thousands of feeding parents and loud, hungry chicks. Fur and leopard seal pups are also about.
February and March are the best months for whale watching. By March, most of the adult penguins have left the colonies, but there are still plenty of scruffy-looking penguin chicks about.
We travelled to Antarctica in early March, a beautiful time to visit, with the snowmelt revealing dramatic rocky peaks and colourful algae blooms; a very different kind of Antarctica to the icy white desert we were expecting.
Throughout our trip, we were treated to up-close encounters with Humpback whales, escorts of Minke whales, dolphins and Wandering Albatross, curious Antarctic fur seals, lazy Crabeater and Leopard seals, and just about everywhere we landed, hundreds of well-fed, molting Gentoo and Chinstrap penguin chicks.
How cold does it get in Antarctica?
'Come on, it's Antarctica, it must be freezing'! Sure, on some parts of the continent it's insanely cold, year-round.
But the Antarctic tourism season takes place during the austral summer, when the days are longer and temperatures around the Antarctic Peninsula usually hover just below 0 degrees celsius.
Our visit to the Antarctic Peninsula in March gave us highs of around 5 degrees celsius and lows of -2. We lucked out with plenty of sunshine, little wind, and while the weather was changeable from hour to hour, only a handful of instances of rain and snow.
Of course, bad weather can make a massive difference, especially wind chill. The week prior to our visit was apparently very different.
There's no way to predict what kind of weather experience you'll have visiting Antarctica. Be ready for anything.
Do I need to buy special clothes?
As long-term travellers with a pretty basic backpacker wardrobe, we were most worried about this aspect of our trip to Antarctica.
We did lots of research on what we might need and picked up some key items specifically for the journey.
We're putting together a comprehensive blog post on what we packed for Antarctica but as a general guide, must-have items include a warm, preferably waterproof parka (some Antarctic cruise companies provide them, we hired ours in Ushuaia), waterproof gloves, waterproof pants, several pairs of thick socks, thermal layers, a neckwarmer and a decent beanie. Sunglasses and sunscreen are vital.
For shore landings, knee-high wellington boots are also necessary, but you can easily hire these in Ushuaia if your ship doesn't supply them.
What will I see and do on an Antarctic cruise?
Every cruise to Antarctica is different but most expedition ships will have a daily itinerary of interesting lectures, briefings and recaps, shore excursions and zodiac cruises.
And eating. So. Much. Eating.
Some cruises also offer special optional experiences like camping on the continent, scuba diving and kayaking.
Once we'd crossed the Drake Passage, a day in the life of our Antarctic cruise started with an early breakfast, followed by a shore landing to see historic sites, penguins and seals.
After lunch, we would enjoy a zodiac cruise into beautiful bays, and past impressive glaciers and icebergs.
We'd thaw out with afternoon tea and then have free time or a lecture from one of the ship's wildlife, geology or flora experts before sitting down to a three course dinner. Afterwards, we would meet for a recap of the day's events and a briefing on the next day's plans.
On the 4 days we were crossing the Drake Passage to and from Ushuaia, excursions were substituted with fascinating lectures on Antarctica.
As nature and wildlife are completely unpredictable though, every day of an Antarctic cruise is full of surprise delights: an iceberg drifting past with seals chilling out onboard; curious humpbacks sidling up to the ship to investigate; the sudden calving of a huge wedge of ice from a glacier…
One thing is guaranteed, you can expect the unexpected.
What other costs do I need to budget for when visiting Antarctica?
We travelled to Antarctica as part of a long-term journey through South America. Whether you're doing the same or arriving in Ushuaia for this one experience alone, there are a number of other factors to budget for.
Transport to and from Ushuaia
Ushuaia is accessible by plane from Buenos Aires, or long-distance bus in Argentina and Chile.
The Antarctic travel season is short and peak, so try and book your flights as far in advance as possible to save on costs.
We booked 4 months out and it cost us around USD$270 each for a one-way ticket. Buses can be booked a couple of days out. Our bus tickets for the 12-hour journey from Ushuaia to Punta Arenas in Chile were around USD$40 each.
Eating and Sleeping in Ushuaia
You'll need to arrive in Ushuaia at least a day before your cruise, and possibly stay at least a day afterwards.
As with flights, prices in Ushuaia hike during the Antarctic travel season so book ahead to secure a room at a decent price.
We stayed in a double room at a B&B around 15 minutes' walk from the centre of town for USD$92 per night, towards the end of Ushuaia's high season.
Eating and drinking can also be pricey in Ushuaia, but there's a big supermarket in town if you're looking for cost savings.
Is crossing the Drake Passage as bad as they say?
This is the question we're most often asked. To be honest though, apart from the interesting lectures, the constant eating, and the awesome group of fellow travellers we passed our time playing Uno with, the 4 days we spent crossing the Drake were mostly uneventful.
Why? Because while we were expecting the worst, the dreaded 'Drake Shake', what we actually got was the 'Drake Lake'.
Both ways.
It was still a bit of a ride. At night we would roll across our berths as the ship pitched side to side and up and down. When we asked the Captain how it compared to other sailings on a scale of 1 to 10 though, he told us we were experiencing a 1.
For the crew, who cross the Drake around thirty times a season, two 'lakes' in a row was a dream run.
So from our perspective, crossing the Drake Passage is a breeze.
If you want to know what a Drake Shake is like though, our friends Alesha and Jarryd of NOMADasaurus visited Antarctica the week before us, and travelled across the Drake in a storm.
There's no way to know whether you'll get the Drake Shake or the Drake Lake when you're visiting Antarctica, but don't let fear of rough seas deter you.
Taking seasickness medication in advance makes a big difference, and all ships have a doctor onboard.
Most importantly, the crews and captains of ships visiting Antarctica are expert at crossing the Drake in all weather, and expedition ships are built for extreme conditions. You're in safe hands.
Plus, at the end of the day, the thrill of a journey across the Drake is just one more reason why visiting Antarctica is like no other experience on Earth.
~~
Read more posts from our experience in Antarctica! In the meantime, if you've got more questions, or insights to share about your own trip to Antarctica, share with us below!