What's the first country that pops into your head when you hear the words, 'great international cuisine'? Italy? Vietnam? Turkey?
Chances are it wasn't Colombia, was it?
That's about to change. Moving on from more than half a century of internal strife and a reputation that kept visitors away, Colombia is finally pulling back the curtain to let its many strengths – like the delicious and diverse culinary scene – shine through.
Watch this space. In the great mixing bowl of international cuisine, Colombian food is on the rise.
A Surprise Foodie Destination
Colombia wasn't initially on our radar when we visited South America this year. We'd plotted an overland route from Ushuaia in Argentina's far south that would take us in and out of Chile as we traversed Patagonia, north to the Atacama Desert and into Bolivia.
When we finally reached the Atacama though, snow started falling on the Andes and within days the border to Bolivia had closed. We needed a Plan B.
One very long bus trip, three flights and two taxis later, we were scanning the menu at a small local restaurant in Colombia's highland city of Medellín.
We weren't entirely sure what we were ordering when we asked for the arepas stuffed with pulled pork, corn and cheese. But then they arrived and, right there and then, our Colombian food affair began.
In this article, we've compiled our selection of must-try dishes and snacks for your visit to this exciting country.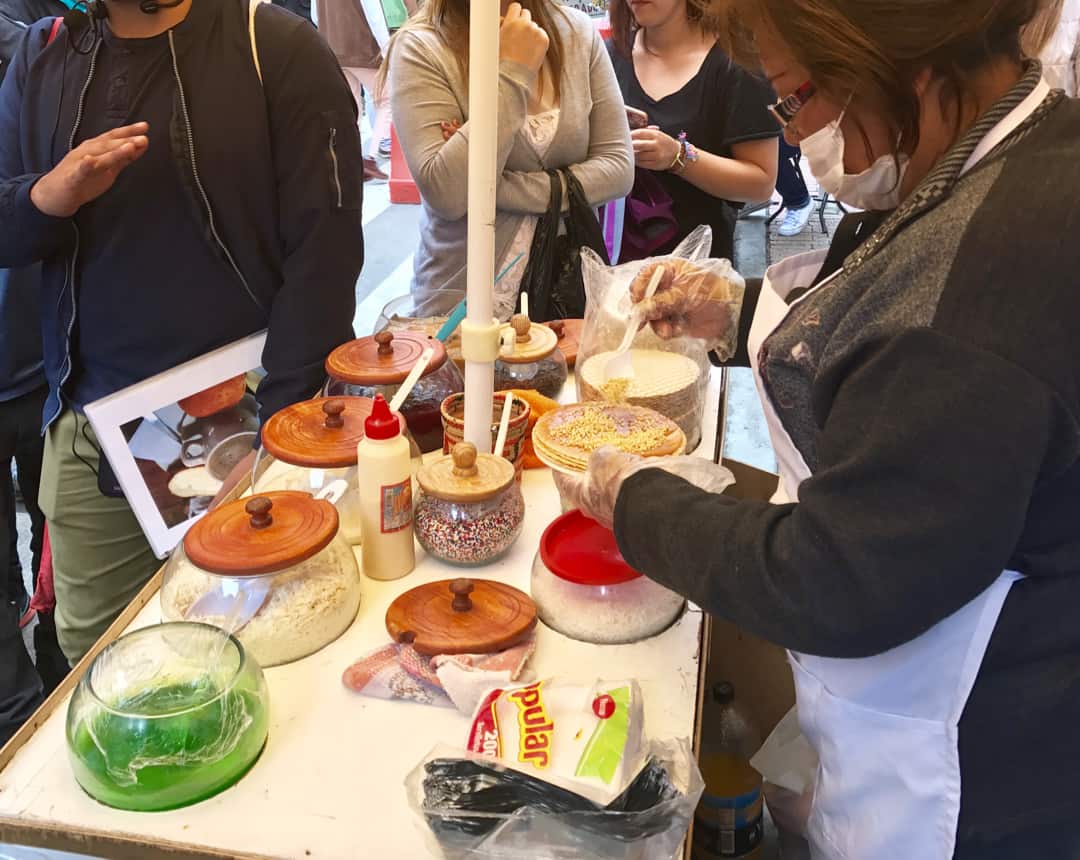 A World Of Culinary Influences
Bounded by both the Pacific and the Caribbean, and sharing land borders with Panama, Venezuela, Brazil, Peru and Ecuador, traditional Colombian food takes cues from the land, the sea, its indigenous peoples, its neighbours, and the European, African and Middle Eastern cultures that have infused the region since the Spanish arrived in the early 1500s.
The result is a buffet of diverse flavours and dishes, at the heart of which you'll find key ingredients like beef, pork, corn, beans and plantains.
Colombia is also one of the world's largest coffee producers, and has a high-quality cacao industry, so you're never far from a decent cup of joe or a creamy hot chocolate.
All of our favourite things in one place. Good call.
Bandeja Paisa – A Dish Made For Sharing. Or Not.
Bandeja Paisa is one of the most famous dishes in Colombia, although it's traditionally associated with the Paisa region in the country's northwest.
Most Colombians will suggest that you share a Bandeja Paisa between two people, and for good reason. Bandeja translates as 'platter', and that's exactly what you get: a mountain of Colombian food.
The exact combination will vary from place to place, but a Bandeja Paisa usually involves a dish piled high with red beans, ground beef, pork belly, chorizo, egg, fried plantain, rice, salad and avocado.
Naturally, we ordered one each.
The best place to eat Bandeja Paisa is Medellín, the biggest city in the Paisa region. We ate it at several restaurants but our favourite was at 3 Tipicos in El Poblado, where you can also get a sensational soup version called Cazuela Montañera.
Arepa – The Great All-Rounder
Not quite bread, not quite tortilla, the arepa is the humble champion of Colombian food (Venezuelan food too, but we'll steer clear of the debate about who made them first).
A small, flat, round cake made of cornmeal, you'll find arepas right across the country, in a thousand variations depending on the region you're in, from soft and fluffy baked versions to crispy, deep fried specials.
You can eat arepa on its own, melt cheese in it, spread it with jam, dip it in hot chocolate, mop up whatever's left of your Bandeja Paisa (if you've made it that far), or stuff it like a sandwich. You can eat it for breakfast, lunch or dinner. Or all three.
In fact, you can eat this versatile little corn cake any damned way you please.
Arepas often turn up with meals like Bandeja Paisa, but it's worth seeking them out. If you're in Cartagena, look out for the carts parked up on the cobbles cooking up tasty, fried arepas with eggs (arepa con huevos) or cheese (arepa con queso) and eat them right there on the street with a zippy salsa.
Or do what we did, find a great local arepa house like Mi Arepa in El Poblado, Medellín, and make it your go-to.
Ajiaco – Colombian Superfood
If the legendary healing properties of chicken soup are to be believed, then Ajiaco may well be a superhero in disguise.
No ordinary bowl of broth, Ajiaco is a glorious vessel laden with flavour and texture, and overflowing (sometimes literally) with chicken, three kinds of potato, a fresh leafy herb called guasca, and corn on the cob.
What, not enough? Don't fret, it also comes with a plate of rice, avocado, fried plantain, and garnishes like capers and cream.
Epic.
Ajiaco can be found all over Colombia but it's particularly popular in the capital, Bogotá. Our Ajiaco addiction took hold at Restaurante Jicá, in the town of Cajicá, a short train ride from Zipaquirá, where you'll find the country's famous Salt Cathedral.
Patacones – One Banana Chip To Rule Them All
Simple and completely moreish, patacones – also known as tostones, are slices of green plantain that have been fried, flattened and fried again.
That's right. Giant, delicious fried banana chips.
Patacones are a popular street food snack but they can also be found on menus all over the country, sometimes as a side dish and often as an appetizer, served with guacamole or a spicy tomato sauce called ají.
That's at least two servings of fruit and veg right there. Sorted.
Changua – The Strangely Compelling Breakfast Soup
The young guy beamed at us as he placed a bowl of steaming white soup filled with floating lumps on the table. 'It's good that you want to try this,' he said. 'I hope you like it.'
As we studied the unusual-looking chowder in front of us, we hoped so too.
Changua, a popular breakfast dish in the Colombian Andes, is essentially a warm milk soup with potatoes, onions, soft-boiled eggs, a scattering of coriander, and – in the case of the mysterious lumps – bread and melty cheese.
Despite our reservations, we tucked in and found a strangely compelling mix of flavours and textures, warm and seriously filling.
Changua isn't pretty, and we both agreed that it probably didn't need a follow-up, but as a traditional meal, and a great kickstart for a long day exploring, Changua is definitely a dish worth trying.
We sampled Changua at one of Bogotá's food institutions, La Puerta Falsa. With 200 years of business behind them, you could say they know their Colombian food traditions.
Oblea – The Celebrity Snack
The oblea first came to our attention when we noticed people queuing at a street stall in Bogotá. A poster of Mick Jagger adorned the front of the cart; he was holding what looked like a giant, round wafer.
Behind the umbrella-shaded trolley, which was laden with large jars of various sticky-looking substances, an aproned lady expertly layered thick caramel over one of these wafers. Then she placed another on top, popped a silver foil on it and, voila! Or should I say, oblea!
That's about as complicated as an oblea gets. You just need to choose the contents of your bread-plate-sized wafer sandwich. Sweet or savoury? One filling or two?
A popular dressing for oblea is Dulce de Leche, a caramel-like latin confection made with condensed milk, but options run from jam and cream to fruit and cheese.
Maybe Mick found his inspiration for 'Sweet Thing' right here on the streets of Bogotá.
Tamales – Stuff Of Legend
Tamales are a Latin American legend and you'll find them all over Central and South America, stuffed according to the local foods and flavours. What connects them all is the outer wrapping of plantain leaves in which they're steamed.
Even within Colombia, you'll find variations on the theme throughout the country: flavour-bursting mixtures of meat, veg and spices, some with a cornmeal casing called masa, others with rice.
It's tempting to opt for a tamal as a snack, but be warned, these little bundles are super-filling. Locals recommend tamales as a weekend breakfast treat, accompanied – as always – by a mug of rich, Colombian hot chocolate.
You won't need to look far to find tamales on your travels in Colombia, but check out old favourite, La Puerta Falsa in Bogotá for a traditional Santafereño tamal stuffed with chicken, pork and vegetables.
Caldo de Costilla – Breakfast Of Champions
Forget soggy cornflakes and cold toast. When it comes to breakfast, Colombian cuisine wins the day for hearty kick-starts, with one meal in particular winning us over completely.
Caldo de Costilla, an Andean specialty, is more reminiscient of a winter's evening by the fire but for Colombians, especially Bogotá locals, it's the dish to wake you up in the morning (and cure your hangover, apparently).
Caldo de Costilla is beef soup. Sublime beef soup. Beef ribs are boiled with potatoes, onion, garlic and coriander to create a delicious, nourishing broth. A side of fresh, pan blandito (soft bread) and a squeeze of lime, and you'll be ready to take on the town.
If you can, get a local's tip on where to find the best Caldo de Costilla on your travels. In Bogotá, friends took us to their go-to, Golconda, in the suburb of Usaquén, to charge up on the soup before exploring the nearby Sunday markets.
Chocolate Completo – Hot Chocolate With A Twist
Sweet and savoury lovers rejoice! Chocolate Completo – hot chocolate and cheese – is one of the more unusual breakfast customs you'll find in Colombia, but try it once for good measure. You might find it becomes a habit.
The trick is to put the cheese, a fresh, white local version, into the hot chocolate. Let it melt a bit and then scoop it out with a spoon and eat it between sips.
We didn't know this when we ordered our first Completo. Our unwitting approach involved dipping the cheese and accompanying bread into the chocolate which, while not far off, didn't have quite the same effect, although it still tasted nice.
Hot chocolate and cheese is a cooler climate tradition and big in Bogotá, so keep an eye out or ask a local for a recommendation.
When it comes to Colombian cuisine, the list of traditional dishes and snacks goes on, and we could describe a host of other tasty street eats, restaurant meals and drinks we enjoyed along the way, like fresh fish ceviché, fried masa empanadas, the fermented corn drink chicha, and mango biche, a refreshing street snack of shredded green mango with lime and salt.
The bottom line is, you won't go hungry in Colombia. In fact, chances are, you'll have a Colombian food awakening. We certainly did.
~~~
We hope you enjoyed this tasty little Colombian food foray. If you'd like to see what else we've been eating and drinking on our world travels, click here.