With the final days of 2017 upon us, and surrounded by packing boxes, piles of clothes and two empty backpacks, the incredible adventures of the last twelve months are already starting to feel a little like a dream.
The 70,000 photos on our hard drive tell a different story, however. And while we won't be subjecting loved ones to a slide show anytime soon (we can hear the sighs of relief from here), it's a good time to stop and look back on 2017 and the amazing year that was.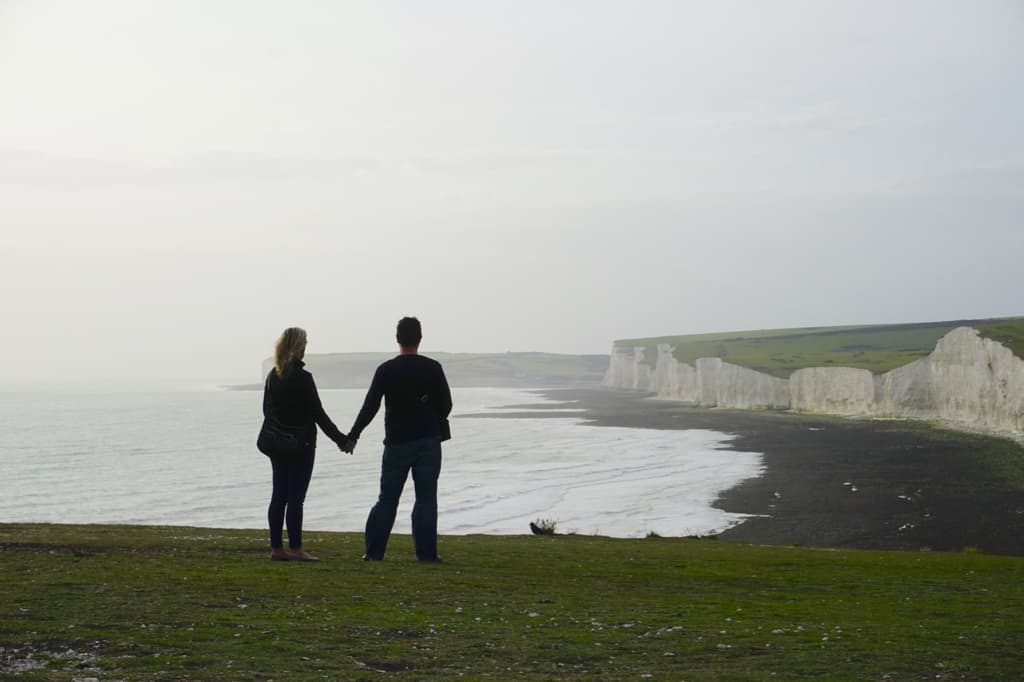 London was our home base again in 2017 and we flew in and out of England no less than ten times as we made our way to and through 15 other countries over the course of the year. Our travels ranged from day trips to the English coast and short breaks in Europe, to an overland journey through Argentina and Chile lasting nearly three months.
Before we left Australia in 2016, we stuck giant post-it notes around our little flat and wrote up our bucket list goals. Two years on, it's time to write new ones.
This year we've seen some of the most breathtaking landscapes on Earth. We've had wildlife encounters we'll never forget. We've hiked, dived, road tripped, cruised, cycled, swam and eaten our way across five continents, and we finally reached our seventh. We've made wonderful new friends and met some of the kindest, warmest people in the world.
2017 truly has been a year of wonders, and everything travel should be: eye-opening, challenging, enlightening. Unforgettable.
With so many epic places and experiences behind us this year, picking out the highlights has probably been our biggest challenge. We've given it a go though, and here is our Best of the Best In 2017.
Most Jaw-Dropping Landscapes
Between the two of us, there have been more 'wows' proclaimed in 2017 than in the rest of our travel years combined.
It's a tight race for this one. Patagonia was beyond breathtaking. Vancouver Island in Canada was simply stunning. And Antarctica? OMG. They're all eye-wateringly magnificent places.
For sheer diversity of striking landscapes and unique, otherworldly beauty though, our vote goes to the Atacama Desert in Chile, a spectacular, high-altitude wonder of desert, salt-flats, pampas, sand dunes, a chain of dramatic volcanoes, and dark night skies erupting with stars. There is no such thing as a boring scene here.
Best Place To Fall In Love With Hiking
As irregular hikers, we're always surprised by how much we enjoy hiking once we're at it. Patagonia, however, took hiking to a whole new level for us. We fell in love with trekking here.
From the epic paths of the W Trail in Torres Del Paine National Park in Chile, to the picture-perfect mountain trails around El Chalten in Argentina, exploring the nature of Patagonia on foot this year was an incomparable outdoor experience. In fact, it's probably ruined all other hiking for us completely. 😉
Most Epic Wildlife Encounter
Seeking out wildlife is one of the motivations for our travels and we had several unforgettable wildlife moments this year, from swimming with huge whale sharks off Mexico, to being surprised by a black bear on a road on Vancouver Island (it was just as shocked to see us and promptly bolted back into the woods).
In Costa Rica, a paradise for wildlife watching, we spotted a rare resplendent quetzal, a huge win for us bird nerds. Perhaps our most profound wildlife encounters though were in Antarctica, where we hung out with hundreds of penguin chicks and seals, and came literally face to face with a pair of curious humpback whales.
The Coolest City
We don't tend to spend a lot of time in cities when we travel, unless there's ancient history, awesome architecture, or a compelling food or cultural experience. This year though, we visited a handful of towns that won us over completely.
In Chile, we passed through the capital Santiago so many times we became quite fond of the huge, bustling metropolis. In Colombia, we were captivated by the successful reinvention of once-menacing Medellín into a proud and vibrant city of culture. In the US, we pounded the pavements for days in the monumental museum city of Washington DC.
Our favourite city though, and by far the coolest town around, was Havana in Cuba: a lively, flamboyant 500-year-old in a crumbling suit. There's simply no place like it.
Most Scrumptious Eating Experience
We love eating so much we have an Instagram account dedicated to our world food forays! Wherever food is a thing (and even where it isn't), we always go out in search of the local specialities, sometimes with a guide to make sure we don't miss a thing.
This year, our eating highlights were many but the standouts include our daily dose of Al Pastor tacos in Playa del Carmen, Mexico; munching our way through the street food of Istanbul on a walking tour; tasting as many local dishes as we could in Colombia; and – our favourite – sampling the scrumptious fried and slow cooked delights of the Deep South on a lip-smacking food tour of Charleston, South Carolina.
Most Epic Road Trip
Getting out on the road with our own wheels is very much how we roll these days (pun intended). Nothing beats exploring a new destination at your own pace, and getting off the main road to find places you wouldn't otherwise get to.
From cruising past volcanoes in the Lakes Region of Chile, and weaving our way between flocks of sheep on the Isle of Skye in Scotland, to looping our way around Vancouver Island in Canada, road tripping has given us some our favourite moments of 2017.
Our most epic road trip this year though, and the most surprising, is our two-week jaunt through the mountain, desert and canyon landscapes of northern Oman in the Middle East. Safe, easy to drive and spectacularly beautiful, Oman is a true hidden gem.
Most Unforgettable Scuba Diving Experience
Diving is a travel passion for us both and usually, if there's sea where we're going, we'll try and dive it.
For the most part, our scuba experiences this year wouldn't make our diving top ten, though some trips have been memorable, like diving in Cuba in clouds of bubbles, all seeping from our ancient hire gear.
One experience however, was an absolute highlight: cenote diving on Mexico's Yucatan peninsula. Mexico's cenotes are flooded, inland sinkholes, often connected underground by flooded caverns and passageways. The water is fresh, crystal clear and eerily silent. Sunlight refracts under the water, creating curtains and shafts of bright blue light. For scuba junkies, cenote diving is a must-do.
Most Spellbinding Destination
Nature has featured strongly on our bucket list this year and we've travelled through some truly enchanting destinations. This title though, goes to one place that stands out from all the others we've visited in 2017 for its sheer intrigue, spectacular location, and extraordinary backstory: Easter Island.
As if the sight of huge stone moai scattered across the island wasn't enthralling enough, there's rock art, cave dwellings, an old moai quarry with hundreds of statues in situ, sweeping island vistas and a vast volcano crater overlooked by an ancient ceremonial village. The local culture is fascinating, a unique blend of Polynesian and South American influences. Easter Island casts a spell on all who reach its mysterious shores; it's definitely a place we'll return to.
Most Memorable Wine Experience
Wine and craft beer feature just as highly in our trip planning as nature, wildlife, history and food, and several destinations this year have served up sensational wine experiences for the connoisseurs in us both.
A couple of days sipping Malbec in the famous wine region of Mendoza confirmed everything we know and love about Argentinian wine. We also sampled some very nice Canadian wine from the vines of Vancouver Island.
Bulgarian wine proved a surprise delight this year, and a day touring the wineries of the Thracian Valley out of Plovdiv gave us a new appreciation for this underrated tipple.
Our most memorable wine experience this year though was an awesome 'wine and bike' tour in the Maipo Valley of Santiago, where we cycled the vineyards before being introduced to the tasty tones of our new favourite red, Carmenere, a Chilean speciality.
The Friendliest People On Earth
One of the great pleasures of travelling is the people we meet, and the friends we make along the way. In a world this big and busy though, it's rare to find the depth of warmth, kindness and generosity that we encountered right across Iran.
From stopping us in the street just to say hello, to inviting us for tea, offering unsolicited help, paying for us at the metro station, handing us tasty local treats to try, throwing us a party, sorting out transport on our behalf…the many, many kind-hearted gestures and moments we had during our travels in Iran is something we will carry with us always.
Best European Short Break
While most of our time in London this year was spent catching up with family and friends and preparing for our next trips, we also squeezed in a couple of short European jaunts: a travel blogging conference in Ireland, a road trip in Scotland, and two separate visits to our much-loved city of Istanbul.
Our favourite short break find though has to be Plovdiv in Bulgaria. Loaded with history (it's the oldest continually inhabited city in Europe), and with vineyards on the doorstep, Plovdiv's old town is a charming place to explore over a long weekend, and – as our last trip of 2017 – it was the perfect windup to an epic year.
2017 has been truly amazing, but there is one destination, a once-in-a-lifetime experience, that will always give this year a competitive edge in the story of our travels together. It's our Best of the Best of the Best.
The Best of the Best of the Best In 2017
It's the most remote and hostile place on Earth, the driest continent, and the coldest. The scenery is mind-blowing. The wildlife is mesmerising. It is absolutely pristine and perfect.
For us, it was our seventh and final continent, and the most remarkable place we have ever had the privilege to visit. We had just five days there, plus another four days of travel to get there. We're talking of course, about Antarctica, our trip of a lifetime, and our Best of the Best of the Best. Ever.
So were there any low moments among all the highlights this year? You know it's been a good travel run when the worst thing to happen is having all your pants stolen from your backpack.
I wasn't thrilled to find I'd been reduced to one pair of cargos and a pair of shorty short shorts when we collected our bags from the carousel in Costa Rica back in February. On the plus side, my bag weighed considerably less and I discovered all I really needed was one pair of cargos and a tiny pair of shorty short shorts. For a little while, anyway.
Looking back on 2017, it's hard to believe we packed so much in: five continents, 16 countries and a world of new memories. While we've captured quite a few of those experiences on the blog, we still have plenty of stories to share. Plus those 70,000 photos.
Thanks so much for joining us for the journey this year! Bring on 2018!